Welcome to Chelsea & Fulham H.O.G.
Next ride:
UWSFTNWSG FGIC - Sunday 11th June 2023
Doors open, Warr's Harley-Davidson Kings Road, at 09:00hrs. Pre-ride briefing is at 09:30hrs prompt. GATES CLOSE AT 09:30hrs. Our policy is no briefing - no ride, so please arrive QUIETLY, on time and with a full tank, to avoid disappointment.
So the name of the ride as you have probably guessed is written in code and it translates to Bletchley Park the code breaking centre for the allies during WWII and the location where Alan Turing and a team of scientists and mathematicians cryptanalysis of the Enigma ciphering system. Turing also developed a test for Artificial Intelligence that is still in use today.
Unfortunately, I have not been able to secure a decent discount on their entry price of £25 that plus having lunch in their cafe would push the price close to £50 per head.
So I have changed our final destination to a local public house where we can get a Sunday Roast (Vegan Option Available).
Anyone who still wants to visit Bletchley Park, I can give you directions, it is only a few minute away.
We will head out of town on the A40 via Shepherd Bush. The total ride distance is approximately 70 miles with a coffee break at about half distance. Coffee/Tea (that's with or without lemon Guy) and Cakes will be supplied at £5.
Lunch
The public house have asked that I supply a list of people wanting Sunday Roast. So if you are coming on the ride and you want Sunday lunch, please see the menu below and email me with your selection plus your choice of dessert if required.
Lunch Choices:
 Roast Sirloin of Beef £11.49
 Roast Turkey Breast £10.99
 Sunday Duo (Roast Beef and Roast Turkey) £12.79
The above dishes come with crisp roast potatoes, roast parsnips, fresh carrots, steamed broccoli, braised red cabbage, Yorkshire pudding and a jug of gravy
 Vegan Wellington £10.49
Served with baby potatoes, a side of fresh vegetables and a jug of rich gravy.
All deserts are £2.50 when you buy a Sunday Roast or Vegan Wellington listed above.
 Caramel Apple Crumble Pie
 Vegan Caramel Cheezcake
 Sticky Toffee Pudding
 Chocolate Munchies Sundae
 Grilled Belgian Waffles
 Belgian Chocolate Brownie
Steve Graham - C&F Secretary, Road Captain & Photographer!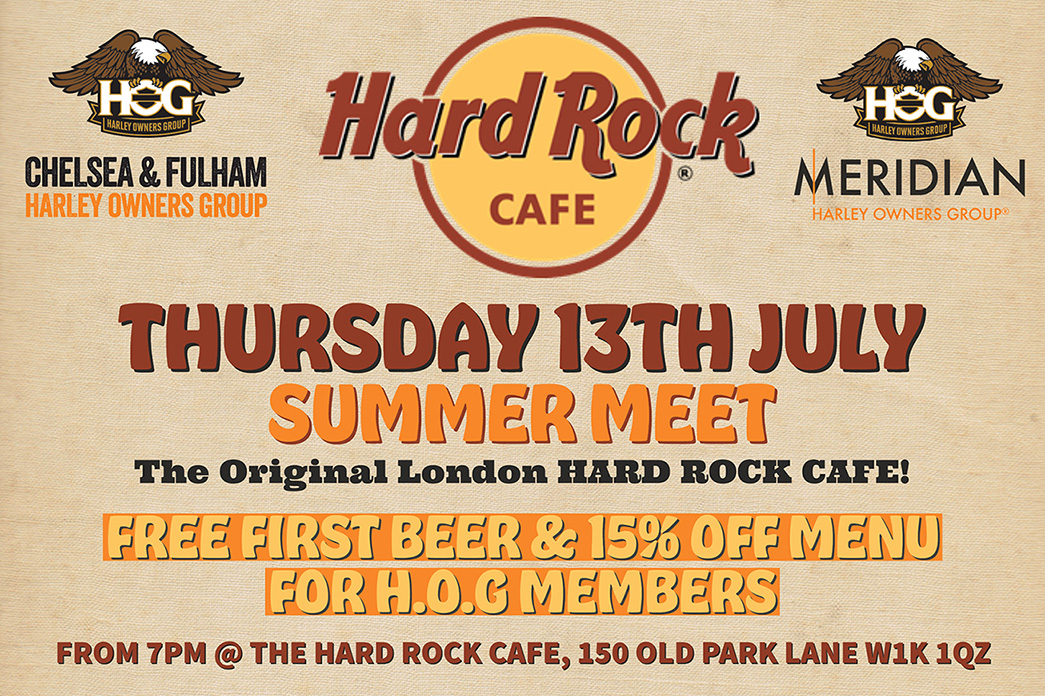 2023 Premier Chapter Event
Harley-Davidson's 120th Celebrations. Budapest, Hungary
23-24 June 2023
Event Now Full
Chelsea & Fulham and Meridian H.O.G. members will be heading to the beautiful city of Budapest, Hungary to take part in Harley-Davidson's 120th Celebrations and the Chapter's Premier event.
Chapter Shop
Check out the London H.O.G. Chapters Collection for all your Chapter's patches, pins & vests.
FREE C&F H.O.G. Chapter membership card
Apply for your FREE Chapter membership card today.
A C&F or Meridian Chapter membership card will be required to participate in ALL Chapter events.
Facebook
If you'd like to join the Chelsea & Fulham Riders Facebook group click here and ask to join.
Please note: The Chelsea & Fulham Riders Facebook group is a closed Facebook group so if you are not connected to Chelsea & Fulham H.O.G. in any way - please don't ask to join. Only those who consider C&F to be their primary H.O.G. group and hold a C&F H.O.G. Chapter membership card will be accepted into C&F Riders.
Catch up on the latest C&F H.O.G. articles
The Two Georges, Blow Away The Cobwebs, Autumn Folly, Wings Day, Wild Frontiers, All About "U", West 5, Spring Fling, Fall Ride, The Loop of Henle, Over the Hill, & Breakfast at Smiths of Smithfield,
Precious Metal Rockers© - Bronze, Silver, Gold & Platinum
Got your Rider patch? You're now ready to start working towards your exclusive Precious Metal Rockers©. These don't come easy but they show your commitment to the†C&F†Chapter and are the ultimate membership symbol.
H.O.G. UK Membership
Chelsea & Fulham Harley Owners Group Chapter is an open membership Group with no obligations, dues or responsibilities for the members. Any Harley-Davidson Motorcycle owner, with valid H.O.G. UK membership, can buy a Chelsea & Fulham H.O.G. patch and hey presto you're a Chapter member. That's always been our style and we plan to keep this laid-back, informal approach.
We do insist of course that you are a fully paid up member of H.O.G. When you attend our events bring your H.O.G. card with you because we'll be asking for your membership number quite a lot, for example before a ride out or when enrolling on one of our trips.
H.O.G. membership comes with a myriad of benefits, not least the ability for you to enjoy the company of like minded Harley enthusiasts in an organised, safe and insured membership structure. For further details and to enrol, please use the online H.O.G. application.
Sponsoring Dealer - Warr's Harley-Davidson®
Your Chapter is proudly sponsored by Europe's oldest Harley-Davidson dealers, Warr's, established in 1924.
Unlike most Sponsoring Dealers, Warr's go way beyond the norm and continue to support your Chapter by providing funds, facilities, hospitality, refreshments, exclusive Chapter offers and most importantly a heartfelt welcome in store and on the road.
They ride with us.
Their continued support enables us to retain our unique FREE Chapter membership and offer the best rides & events this side of the Rockies!
Therefore, we think it's only right that our Sponsoring Dealer deserves Chapter member loyalty in return and we expect all members to make Warr's dealerships their first choice for all their Harley-Davidson requirements.
Ride with Pride!
Be sure to wear your H.O.G. patch and Chapter rocker on all official rides.