Bamboozled in Berkshire
12th April 2015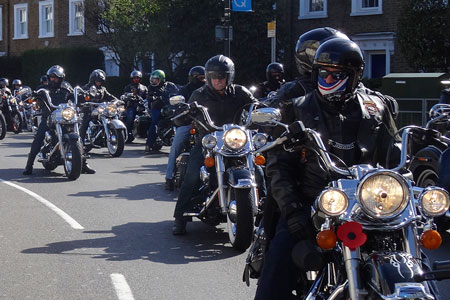 Rides don't start at 10.00 on Sunday morning at Warr's, they start months before with the Road Captains figuring out where to go and then a week before the ride there is the all important final recce to check on last minute road works etc. For this ride the recce was an epic and worth reporting. There had been days of heavy rain and the forecast for recce Sunday was no better. Undeterred the brave road crew of Cap'n Beakey, Mick Newstead and Oliver Achkar gathered at Warr's in pouring rain and headed west.
Getting out of town was easy - M4 west in heavy rain and spray, ugly but fairly standard riding. Off the motorway and into the country lanes and the real fun began - floods across the roads (how does that happen on the top of a hill?) cars and 4x4s going the other way at speed putting up walls of water, bits of tree down, gravel wash out across tight bends and all viewed through visors and screens drenched on both sides. There were sections where a rubber dinghy would have been handy, enough to deter the most hard-bitten riders. But rest assured, the C&F road captains spare no effort to deliver the ride. At least the weather kept the horse riders at home. When we finally reached the Swann at Streatley we were so wet we could not face getting all the wet gear off for a pint so it was straight home to a hot bath.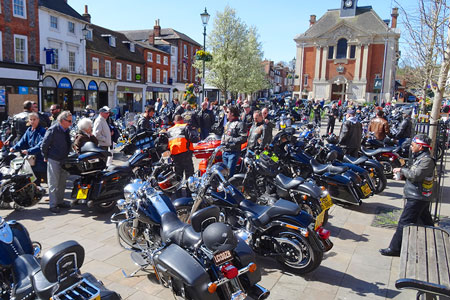 What a difference a week makes! On ride day the sun was shining and 103 bikes set out from Warr's for a joyful run through Berkshire passing lovely villages, taking up the entire town square in Henley on Thames for the coffee stop. Then up onto the Berkshire downs with fine views over the rolling countryside (but keeping eyes on the road, of course) and finally to the Swann, where lunch was taken sitting on the riverside terrace enjoying the spring sun. We counted 102 bikes made it to the end (where did we lose one?).
Thanks to all who came and made this a 100+ bike ride out! Thanks also to Mick and Ollie for a great job, its worth the hassle when it all goes right on the day!
Richard Beake - C&F Road Captain
Photographs by: Steve Graham and Oliver Achkar.