European Bike Week
Faaker See, Austria. 11-12 September 2015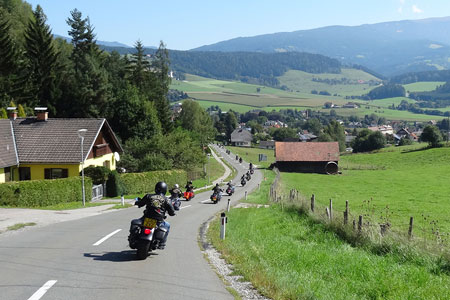 A few years ago, on our last excursion through Austria we vowed never to return. We had failed to prepare correctly. By not purchasing an inexpensive vignette we were stopped by the authorities and lumbered with a very hefty fine, which the ride leader on the day very generously and most gallantly covered.
We could not have been more wrong. Our Chapters visit to European Bike Week in Faaker See this September was a triumph.
The riding experience in Austria was probably the best I have had in my ten years of European touring. The roads were breathtaking, the views were spectacular and the weather was perfect considering it was September.
The Chelsea & Fulham H.O.G Chapter Rideout and Party never fails to delight and this year was no exception.
We met at Pörtschach am Wörthersee by Lake Wörthersee early on the Saturday for a pre-ride brief and a promised ride-out through the most beautiful countryside in Europe.
More than 40 of us gathered. Friends old and new met and regaled tales of derring-do on their adventures down to Faaker See. The mountain passes they had conquered, the challenging weather conditions and the fun that they had with their riding compadres. Everyone was fully fuelled and raring to go. Some had even managed to wash their bikes. One overseas C&F member, American Dan Wilson, had flown in especially from Colorado just for our event. Now that's real commitment to your Chapter!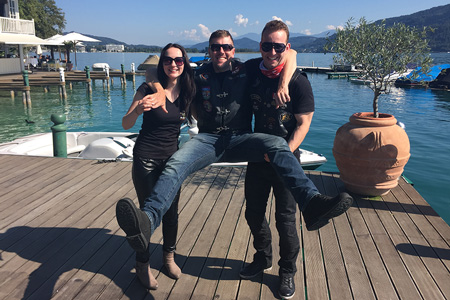 The ride-out had been meticulously planned as the Directors and Road Captains had given up their day on the Friday before to recce the route and ensure that everything ran smoothly for the rest of us.
The route was a circling 85 mile ride which encompassed a delightful texture of sweeping roads, challenging twisties and hillside hamlets which smelled of freshly mown grass and hot apple strudel.
A comfort break had been organised in a beautiful village called Althofen, where the strudel was home-cooked and delicious and plenty of steaming hot coffee was ready for us upon the arrival of dozens of Harley-Davidsons. This proved to amuse the local residents who were going about their business on what they had thought a perfectly normal Saturday morning.
There is something quite special about riding in a tight staggered formation with your fellow chapter members through the delights of another country. We rode smoothly as one rather large and noisy machine with the RCs riding shotgun to do the drop-offs. They, like us, were having the time of their lives.
We all ended up at the most stunning venue for a late lunch, the Relais & Chateau Spa Hotel Schloss Seefels Wörthersee. Highly recommended.
The sun was out, the lake front Porto Bello restaurant was picturesque and the food and service was fabulous. There were toasts and photographs to record the day and tour rockers were handed out. It was great to see so many C&F Road Captains in attendance. Rob Warr, Mick Newstead, Oliver Ackhar, Andrew Papas (Last Man for the day) and the two new RC recruits Fred Woolcott and Steve Graham not to mention Chapter Director and founder John Warr and Assistant Director Colin Houliston.
A huge thanks to John & Colin for their organisation of this event which I feel may be unbeatable. However, I know that they will always be up for the challenge because I am sure we said the same thing last year in St Tropez.
Sarah Papas - C&F Rider
Photographs by: Steve Graham and Rob Warr.