Warr's - 80 years of Harley-Davidson
This article was first published in Chelsea & Fulham H.O.G. News in 2004.
This year Warr's celebrates 80 years as Europe's oldest Harley-Davidson dealership. Two World Wars, three generations and AMF! It's quite a story...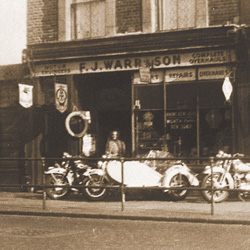 It was 1924. Captain Frederick James Warr had just been demobbed from the Army for the second time. In 1914 the 16 year old volunteer had fooled the recruiting Sergeant about his age and risen through the ranks in the Royal Artillery serving King and Country on the Western front and later on in the Middle East. Now he needed to earn a living and opened a bicycle shop at 611 Kings Road. That same year he moved on to motorbikes, first Triumph and then Harley-Davidson.
Photo: Warr's original pre-war dealership
Fred had some experience of the V-Twins on the Western Front during the First World War after the Americans arrived in 1917 and he embraced them with a passion. American motorbikes had had a following in the UK since Edwardian days and HD had a shop in Newman Street, W1.
The Twenties was a great decade for motorcycles. The number on British roads trebled in that time as demand for cheap personal transportation grew rapidly.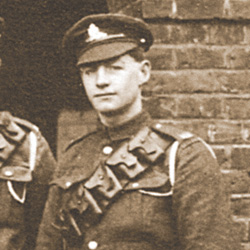 Ex-servicemen were keen to spread their wings. "How you gonna keep 'em down on the farm when they've seen Paree?"
Photo: Frederick Warr Snr 1917
Fred ran the business almost single handedly with his wife Margaret until the outbreak of the Second World War in 1939. As Hitler set his sights on Britain, Fred closed the shop and volunteered for his third spell in the Army, rising to the rank of Major by war's end.
Duty done 611 was open for business again in 1946 and a year later Fred's son Frederick Howard got involved in the business after leaving the Royal Air Force. Young Fred was every bit the swashbuckling RAF man zooming round the country on an H-D 750cc side-valve WLA.
Both wars had made a significant impact on the Harley-Davidson name in the UK. The Rugged WL 750cc motorcycles were supplied to British services through the Lend-Lease scheme. Their well-sprung seats made them extremely comfortable and they were very easy to manoeuvre even on difficult terrain. They were particularly popular in the African theatre because of their oil bath air cleaners and good build quality.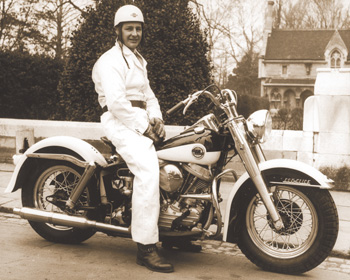 The bikes arrived in their thousands in convoys across the Atlantic, although there must be many more thousands under the chilly Atlantic rollers thanks to the constant harassment of the U-boat packs.
Photo: Fred Warr Jnr 1957
The end of the war saw hoards of bikes staying in Britain. Bikes along with tons of spare parts were auctioned off as Government surplus. Fred bought as much as he could against stiff opposition from other dealers like Claude Rye of Fulham. It was not uncommon to bid for lots without knowing exactly what was in the boxes. Fred once bought a ton of spares, only to discover that half of the container was full of speedometers!
Warr's were in a great position to civilianise the bikes and carved out a reputation as specialists in that area. At the time there was big competition. Claude Rye claimed to have the biggest supply of Harley-Davidson parts in the world. Manchester's Fred Fearnley claimed the biggest spares dump in Europe. It was a time when you could by an H-D 750 finished in cream for £89!
Young Fred was a very accomplished rider. He rode in most kinds of competition, taking part regularly in sprints and road trials. He took an Electraglide to victory in the National Rally of 1974 and his 1957 success in the 1000k Silverstone won him a special commendation from the Milwaukee factory. In the mid-seventies he competed in two Circuits des Pyrenees riding an Electraglide and a café-racer sportster.
It was 1957 and Fred jnr had taken the helm and was driving the business forward. It was time to source new Harley-Davidsons. So off he set on the Queen Mary and headed for Milwaukee. After a very rough crossing he checked into a cheap hotel and then met with founders son William Davidson (Willie G's father) and his export manager. Fred was wined and dined aboard William's boat on Lake Michigan. Fred was impressed and so was Davidson. Fred was even more impressed when Davidson told him "his hotel bill had been taken care of"!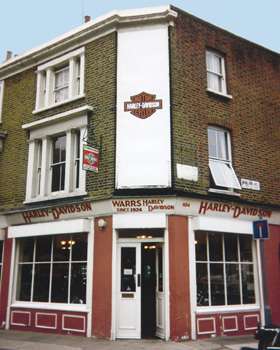 Photo: Waterford Road store
One of the problems facing Warr's at the time was the protectionism of the British government. There was a complete ban on the importation of US motorcycles to the UK. After much lobbying the illogical situation was resolved (US car imports were allowed but not bikes) with a token allowance of 80 units into Britain. It was not easy to sell such a number. Most of the bikes coming in at that time were
K Models and the new Sportsters. At the time Warr's was pretty much the only official HD dealer in Europe.
Warr's continued to sell, service and maintain Harleys for the next ten years until 1969 when AMF bought Harley-Davidson for $14 million. AMF opened up an office in London's Burlington Street in the early seventies and started to appoint new dealers - as many as 20 in the London area at one time. But the dealers found the low quality, highly specialised machines difficult to sell.
Warr's survived this period by doing the job properly, doing repairs and selling spares. They bought the bikes other retailers found unsaleable but made some margins there too. And so it continued through the bad old AMF days until the management buyout of 1981 and the proper rebirth of the V Twin manufacturer.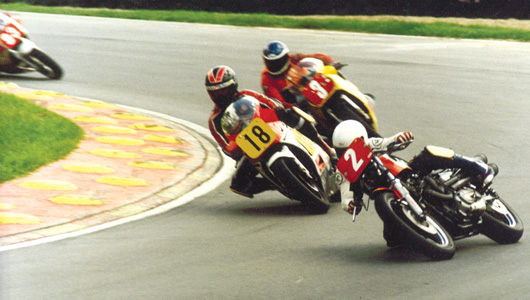 Photo: John Warr and XR1000 (no.2) at Brands Hatch
1981 was also the year when the next Warr generation became involved in running the show. Fred's eldest son John Warr joined as the company moved from the King's Road premises to Waterford Road round the corner. Two years later in 1983 he went to Wisconsin to take part in a dealer meeting. There he caught his first sight of the new Evo engine designed by Englishman John Favill. Favill had been with Norton Villiers prior to joining H-D.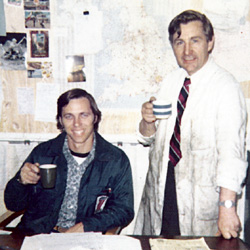 The introduction of the Evo engine with its aluminium modern gaskets and the best of engineering practice, backed by a management who put quality on top of their agenda, led to a surge forward in sales. With reliable bikes they could now go out and expand the market.
Photo: Harley racing legend Cal Rayborn takes tea with Fred Warr
Like his dad before him John Warr has Harley oil in his veins and soon got involved in racing bikes. His passion started when he saw American racer Cal Rayborn, the H-D factory rider, come over for an Anglo-American Match Race series in 1972 and use the Warr workshops. Legend records that Rayborn won three of the six races in the series. To young John, Cal was a Harley hero and he could hardly wait to get out there and try to emulate him. He started production racing at the age of 17.
When legendary H-D racing manager Dick O'Brien came up with the XR1000 based on the 750 flat tracker John took to the big brute with a relish and kitted it out for the track. He rode Harley XR's and the first Buells with great success throughout the 80s. In 1987 at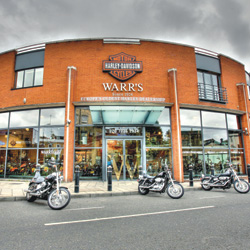 Croix en Ternois in France Warr's also recorded the first ever race win with a Buell outside the States. To this day Road Racing is important to the company and as recently as 2006 Grand Prix star Jeremy McWilliams succesfully rode a Warr's XBRR Buell in the Daytona 200.
In 1990 at a ceremony in Washington DC Warr's were honoured by the Harley-Davidson Motor Company for outstanding loyalty and dedication to the brand since 1924.
Photo: Todays flagship Kings Road dealership
By the early nineties John had taken over as Managing Director of the company and his father's interest concentrated on the vintage machinery. The company re-located back to the King's Rd and in early 2000 moved into the current purpose built, state of the art flagship dealership.
In 1997 Warr's opened a specialist Harley MotorClothes store at 125 King's Road and in summer 2002 unveiled a brand new Harley dealership in Mottingham SE9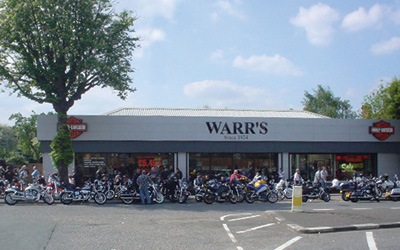 serving South London and the home counties. As well as sales, service and repairs Warr's operate a large rental fleet, custom build service, demonstrator programme, storage facilities and are proud sponsors of Chelsea & Fulham Harley Owners Group which was started by John in the mid-eighties.
Photo: Warr's dealership in South East London
With continued growth and unlimited enthusiasm Warr's looks set to retain it's position as Europe's oldest and most successful Harley dealership, ensuring that what old Fred started in 1924 will be going strong well into the 21st century.
Conor McAnally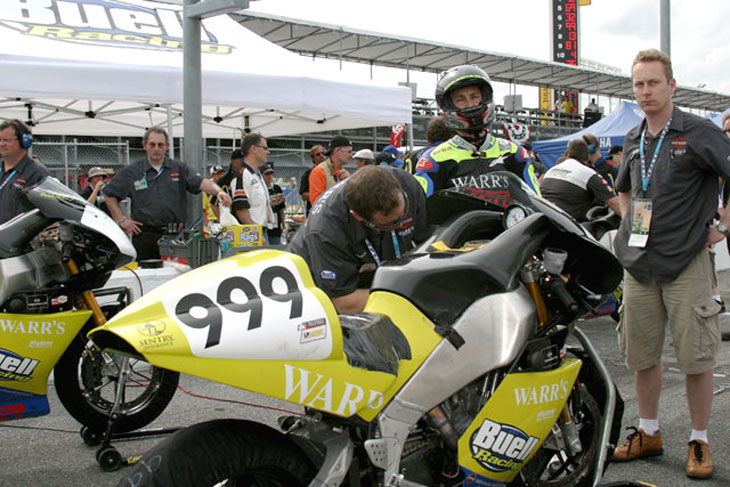 Photo: The Warr's Buell race team make final checks to McWilliams no.1 bike just minutes before the start of the Daytona 200
Back to top