A brief history of Chelsea & Fulham H.O.G.
...or how to have adventures on your Harley-Davidson.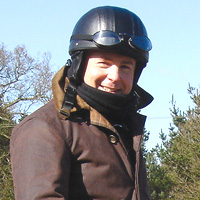 In 1983, Willie G. Davidson thought it would be a great idea to start up a manufacturer backed owners club for Harley riders. The Harley Owners Group "H.O.G." was born and has since gone on to celebrate its 25th anniversary and become the biggest motorcycle club in the World. Nowadays nearly every Harley dealer from Monterey to Moscow sponsors a local chapter of HOG.
Back in London in 1985 it struck me that this new fangled H.O.G. idea sounded like it could be fun and was worth looking into. The H.O.G. ideals and philosophy applied then as much as it does now - "Go riding and have fun". I liked the sound of that and having just about hung up my well worn bike racing leathers for the last time, I was looking for some two wheeled recreation of a different variety.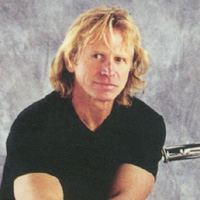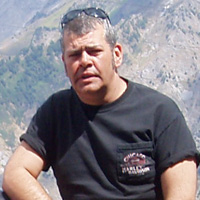 So I thought of a name for the new chapter, not very difficult, and with help from my riding friends and original Chapter members Mark 'Digas' Phillips (left) and Richard La Plante (right) I started to organise occasional ride-outs and regular social events based at a friends bar in Camden and at the original Hard Rock Cafe on Hyde Park Corner. With help from the then Hard Rock's PR Natasha Rayne I also managed to secure a regular slot on the last Thursday of every month at the iconic burger bar with free beer and more importantly, Harley parking right outside.
After a slow start the Hard Rock event became a regular success and began to draw bigger and bigger crowds. A year later in 1987 we had the first H.O.G. Rally at Peter de Savary's Littlecote Manor and also the Chapter's first overseas ride, a wintery trip down to Milan which later became known as the 'Creosote Run'. Ride destinations since those early days include most of Europe, Scandinavia, the United States, South Africa and even Iceland!
Now, nearly a quarter of a century after its formation, our Chapter is stronger than it's ever been with a fantastic team of volunteers helping to organise our extensive list of rides - both UK and overseas - and always with the emphasis on quality and safety. Thanks to Assistant Director Colin Houliston and past officers Conor McAnally & Nick Page the chapter started the new millenium with a renewed vigour and ambition ensuring that Chelsea & Fulham Harley Owners Group continues to help Harley riders get the most from their bikes and ensure it's easy for them to "Ride and have fun!"
Take a look at our events list. Pick one and turn up. If you are new to the sport why not try a simple day rideout to ease you into things - you can soon progress to an overseas trip.
I'll see you there.
John Warr - C&F Chapter Director