Garden of England
16th May 2004

Wow! - The sun shines and they will come - and come they did. No less than 65 turned up for the first major run organised out of Warr's Mottingham on Sunday 16th May.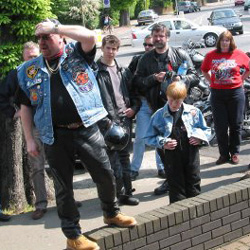 John Warr arranged bacon sarnies and tea for all - perfect - have bike plus food will travel. C&F's officers were there to help get the day off to a good start and with many new riders joining us for the first time Scottie gave the all important safety briefing before departure.
What a sight - with lights blazing and sounding like rolling thunder we eased our way out into the Kent countryside. Past Brands Hatch, down Wrotham Hill and into the lanes - passing through Wateringbury, crossing the medieval bridge at Teston, through Leeds village and on to our break stop at the Service area on the M20.
Great! Things are going to plan - well almost! It seems we lost a few riders back at Teston - but Nick Page was there to corral them back onto the main route and caught up with the ride at 'Roadchef' - well done Nick!
Off again after a shortened break to make up for lost time through Harrietsham, Lenham and onto Ashford before joining the M20 at junction 9 - if only I'd had a rear facing camera - lights and bikes stretching back a mile or more on the motorway - awesome.
Leaving the Motorway at junction 11, we filed slowly into the lanes passing the Brabourne Estate and into Stowting where Harry and his team were waiting to welcome us at 'The Tiger Inn'.
With tables and parking reserved we all settled in for some food and refreshments in the warm sunshine - Yeah this is what it's all about.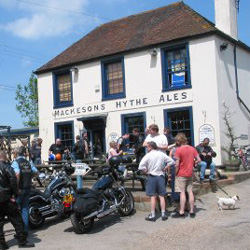 As all the riders started to drift away and I thanked Harry for his hospitality, he enquired as to whether we would consider this an annual event and also suggested the possibility of an outdoor BBQ in November! I thanked him again for this further invite - but in truth I also took this as a measure of success on both the impact we had on this local community and the first Mottingham run.
Many thanks to John Warr, the officers of Chelsea & Fulham H.O.G., Dave Mollison (last man) and probably most of all - the riders who turned up (oh - and the sunshine!)
Dave Mann - Meridian Road Captain