Convergence Run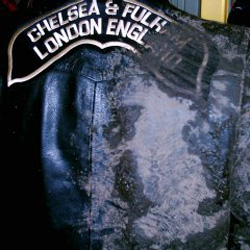 14th March 2004
On Sunday 14th March was the convergence run, ably led by Road Captain Peter Scott; due to the success of the last couple of year's runs with several Chapters congregating, it had been decided to move the venue to Bisley shooting ranges, where extensive indoor accommodation, hard standing for bike parking and catering was available. The weather was a definite factor on the day, making the trip down there a bit miserable as well as contributing to much mud and gravel on the roads, washed out of the fields.
On this very mud Steve 'Smiley' Beauchamp performed a very elegant 180 tail slide, followed by a front wheel breakaway on a sharp right hander. New member Russell Beech was so impressed he had a sympathetic front wheel breakaway - formation Harley crashing. Steve was briefly a member of Chelsea & Fulh** (see picture).
Riders were fine but both bikes needed some attention. We rode bravely on and turned up with the greatest number of bikes at the convergence. Given the appalling weather there were only about 35 bikes in all but almost half were ours. Lots of other chapter members and officers supported the event on four wheels which was warmer and dryer and nice but soft.
Wednesday was my opportunity for a day out with Bikesafe. The praises of this day with the Metropolitan Police traffic division motorcyclists have been sung on this web-site plenty of times before, so I will not repeat it all again. However this may be the best £25 a London motorcyclist will ever spend...
I have to say I was quite nervous about having my own riding subjected to the microscope of two assessed rides. After all I've been an IAM member and a police driver since 1982 so ignominy was available, but (apart from a few minor faults and one absolute cock-up of a right hander somewhere in deepest Sussex) no real drama. Oh, and a just serviced FXDWG has the legs of at least two BMW flat twins. And it's not THAT noisy, officer!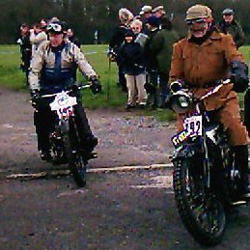 Moving on to Sunday 21st for the Pioneer Run at Epsom. This was the first of the informal rides out - no affiliation with H.O.G., no connection with Warr's, just the opportunity to get out.
I met Russell (with now repaired Sportster) at Warr's and we went down to Epsom Downs to watch some of the veteran machines set off for their 48 miles to Brighton. Then to Ryker's at Box Hill for a cup of tea and home in time for lunch. A beautiful and absolutely freezing morning.
Sooner them than me!
Michael Howers - C&F Road Captain