Breakfast Run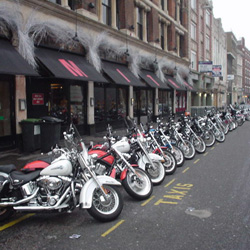 12th December 2004
A dry day with a nip in the air. Perfect conditions for the Annual December rideout. Destination Smiths' fine eaterie in old London Town.
Dave Mann organised the ride in from Mottingham and ensured an early start departing SE9 with 17 fellow riders and Meridian H.O.G. pioneers. The Chelsea & Fulham end was organised by Colin Houliston and kicked off with a 9.30 departure, 22 riders briefed and rolling towards Parliament square.
I tagged along with C&F and although the group got intitially split, by the time we were riding along the embankment at Temple we were pretty well altogether and turned up Snow Hill towards Smithfield as one.

40 Hogs at Smiths'
Dave and crew were already tucking in to "full English" as we parked up. 40 odd bikes in a row is a sight to see and made for a record turnout for the December breakfast run. After scoff both groups saddled up and got ready to depart towards St. Pauls where Colin had planned a quick photo opportunity. As we waited for a couple of stragglers to mount up the noise of 40 hogs raring to go reverberated around the City. By the time we got the nod from last man Conor McAnally I'm sure I felt the ground vibrating!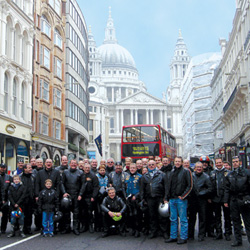 Round the corner and up Ludgate Hill. St. Pauls looked stunning but alas we were unable to get close because the road had been shut to traffic that morning. Thinking fast Colin led the group towards the Old Bailey and we all parked up in a side street. Bikeless but cheery the group walked down to St. Pauls and Wiggins took a couple of great snaps of us all with Sir Christopher Wren's masterpiece as our stunning backdrop.
After handshakes and plenty of "Happy Christmas" Dave Mann organised a return ride for the Meridian H.O.G. and the C&F H.O.G. headed back west along the embankment. A great run, expertly organised and a hint of the great 2005 riding season to come.
If your interested in taking part in any of the great activities we've got planned next year get along to the Warr's dealerships and pick up your free 2005 schedule of events postcard.
John Warr - C&F Chapter Director