Hardy Boys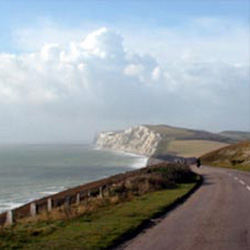 2001
Forecast was pants, mixed at best. Five Hardies turned up to be lead by Paul Wiggins who had organised the run for lunch in Salty's restaurant in Yarmouth on the Isle of Wight.
Of course it rained! Everyone was pulling on the waterproofs near Guilford, as it came down stair-rods. Dried off as we neared Portsmouth and the ferry. From Newport we hit the good roads south and then west for that fantastic run along the top of the cliffs from St. Catherine's Point to The Needles. Terrific fun.
We pulled in for lunch with a big smile on their faces. Salty's was right next to the ferry back to Lymington; then a quick run up through the New Forest towards London. The Hardy Boys had a great adventure and were all home in time for tea!
Paul Wiggins - C&F Road Captain