Grape Expectations 2017
31 Aug - 3 September 2017
On Wednesday afternoon we (Cathy and Lisa) met for a pre-ride social at The Bike Shed in Old Street, London. We were very excited about our ride to Folkestone and the torrential rain wasn't going to tarnish our spirt! We set off at 4pm and arrived like drowned rats at the Holiday Inn Folkestone to our welcoming committee - Nick, Jane, Les and Mark. Fred and Steve arrived just soon after us and the main topic of conversation was dinner (apart from Cathy and Lisa sharing). Mark tried three Chinese takeaways but all were closed - not a good sign or maybe a good one, so we settled on a lovely Indian meal. We enjoyed a social evening of drinking, laughing and welcoming further drowned rats Johnjo and Kay, Alex and Debbie then Graham and Caron. A fairly late night was had by all.
Thursday
Thursday morning we work up dry and the weather was kind. Pete Harvey met us at the hotel and we began to load our bikes and headed to the Tunnel. Sarah and Pete Rogers were waiting for us as along with Justin and Zoe, that's it, full team. There were delays due to an incident and we got split into two groups which meant that half of us got on the train on time and the other half had to wait 1 hr and 50 minutes for the next train. The crossing for group 1 was very smooth and we rode from Calais to the nearest filling station to bask in the sunshine drinking French coffee and eating croissants whilst we waited for group 2 to arrive.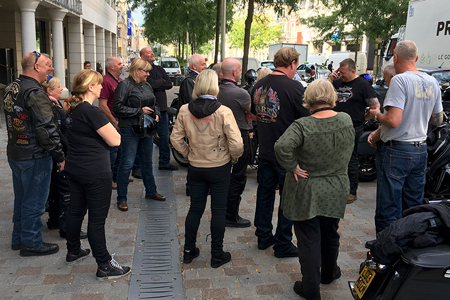 Nick, our trusted leader did morning prayers and the disclaimer and took the decision as we had lost almost 2 hours to cut the lunch stop and to grab something on the go during our fuel stop. We rode 105 miles on the autoroute to Peronne. The service station had a great selection of yummy food. Within 30 minutes we had fuelled both the bikes and our bellies and were off onto Ham through Brie (I feel a sandwich coming on!) and then turning off through the deserted countryside eventually stopping in Cuts for more coffee.
Out of Cuts towards Blerancourt on the D6 and twisty roads on high plains for miles before arriving in Soissions. Nick took the decision to cut a bit of the ride out so we could catch up on time and arrive in beautiful Reims just before 6pm.
We had just enough time to check into the Holiday Inn, change and unpack and meet the Holiday Inn Reims Massive (Cathy, Lisa, Sarah and Pete Rogers) on the roof-top bar for our first glass of champagne. Stunning views of Reims and its cathedral with just a peek at the other team hotel, the Best Western. We headed over to join as a group in the bar, had a few more drinks and then on for dinner at L'edito. We headed back to the BW bar for post dinner drinks and social. Reims is definitely a party town.
Friday
Friday started dry and sunny but with a warning of rain around 2pm. After breakfast we meet up outside the BW at 10am and Nick took another decision due to the impending weather forecast to do a half day ride heading towards Epernay and we stopped at Hautvillers. However, parking barriers had been erected (how rude) so we headed off deep into the countryside for a coffee stop at Sarcy (population 250) at the biker stop Cafe de Sarcy. We thought it was only old ladies who got locked in the lavatory but Nick managed to get stuck and were it not for Fred and Steve he would probably still be locked in there! Over the past 5 years the village put on an American event, cars and bikes as they were liberated by US troops in WWII. The first year saw 400 attendees and this year it had slowly increased to 6000!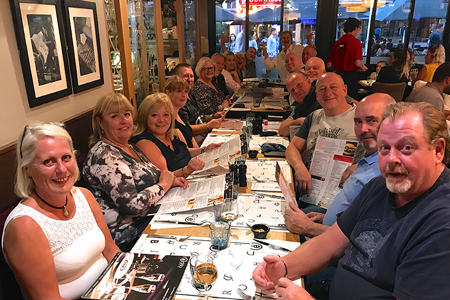 We headed through a forest but had to pull up under the cover of trees to don our waterproof as the heavy rain started. Nick led us back to the hotel which was only 20 minutes away and drove past the Gueux F1 grandstands on the D27. Once safely back at the hotel it began to hail large lumps in spectacular fashion so we relaxed for the afternoon and then the group did their own thing for the evening. Sadly after dinner Justin and Zoe said their goodbyes as they had a near 1000km ride back to Nice the following morning. They managed it in 10 hours!
Saturday
Dry! We met again outside the BW at 10am and headed of back to the Gueux F1 grandstand for photos and then to HD Reims located in Ormes which was just a couple of miles outside Reims. The dealership had some of the new models in the showroom to keep the boys happy and the ladies shopped. As we were a chapter they very generously offered us 20% discount which was a perfect excuse to spend. They had some unusual stuff and even had HD dog and cat collars! We left the dealership and rode to the Lighthouse in Verzenay which is 200 miles from the sea. To get there we rode through Bouzy (there is a pun in there!) near the home of Bolly darlings!
Today was the first day of picking the grapes after the summers growth and the view from the lighthouse of the sweeping vineyards was spectacular. As we rode through the winding roads alongside the vineyards the pickers would stop and wave at us. Nick led us out through sleepy French villages to the very small village of Mareuil-sur-Ay (population bigger than Sarcy but not much). Virtually the only thing on offer was Moules Frites. Cathy was an incredible translator / waitress / accounts clerk and made sure all our orders were placed, distributed and paid for. We had to be quick as the chef had a doctors appointment at 2pm! The food was basic, plentiful and delicious. We rode back through Dizy, then Champillion into the Champagne hills heading towards Reims arriving back late afternoon.
Saturday night the group met for pre-dinner drinks at the BW and then the remaining 17 of us went into the hotel restaurant Cafe de la Paix for our last evening dinner together. Great food, great atmosphere, great people and of course Nick handed us our treasured Grape Expectation 2017 rockers. More drinks in the bar and a farewell to Fred, Graham and Karen as they were catching an early train back to England.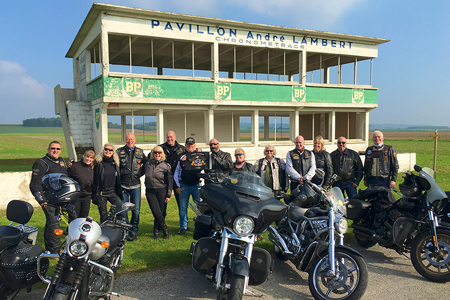 Sunday
We regrouped at 10am having checked out and packed the bikes up. We headed out on the D966 towards Montcornet where we had coffee outside on the sunny terrace whilst the Sunday market was taking place. We rode through Vervins, then Bohain-en-Vermandois for an improvised croque monsieur (cheese toasties) or rillettes (pate) banquettes. The owner of the cafe had to call the local boulangerie (baker) to get some fresh bread! After lunch we joined the autoroute for the last leg back to Calais to the busiest day of the year for the Euro Tunnel. The crossing was smooth and hot due to no air in Conor the train and a lot of hot HDs. We arrived back to Folkestone to the rain.
What a great weekend, getting to know a lovely bunch of people, drinking too much champagne (as if you can ever drink too much!) and seeing parts of France on such well planned routes and inventiveness when the weather wasn't on our side. A very special mention to Nick Deal for his stalwart planning and leadership, to our last man Les Channing who managed to keep us all together as a group and finally to Steve Graham for capturing so many memories on his camera and videos so that the memories will never die.
Will we be going next year - no brainer!
Written by C&F members Cathy Robert & Lisa Gunther
Photographs by C&F Photographer Steve Graham