A Piece of Cake
20th September 2015
DOF (or David O'Flaherty to his friends) has a penchant for putting on longer rides. These are intended to challenge the newer rider, as well as entertaining the more experienced to whom a brief 50-75 miles is just that - too brief. Naturally the complexity of the route also has a bearing on what can be achieved within the time window of a Sunday ride. If you stay off the main roads, the local Home Counties are criss-crossed with a web of back roads which are also used extensively by horse riders and especially cyclists. The more technical the route the longer a given distance takes to accomplish, the more drop-offs are required, and the more the ride will be broken up by traffic conditions. These aspects must be taken into account when doing the planning and the recces where several of the experienced road captains will ride the route and compare notes on drop-off locations, the advisability (or not) of using certain junctions, location of fuel stops and verify the planned timings. No point at turning up at a lunch stop 10 minutes after they have stopped serving.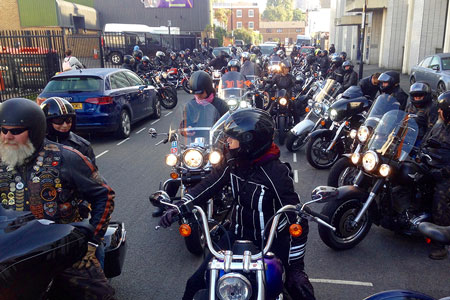 So to the all-important final recce. Held straight after Robin Lahiri's funeral, some very hardy Road Captains (DOF, Les and Nick) braved the wind rain and mud of a foul afternoon. Everything checked out, so we were good to go for Sunday 20th September.
The ride was divided into three sections - from 611 Kings Road to a comfort stop in Alton, Hampshire; thence to the lunch stop at The Squirrel in Hurtmore near Godalming; and then finally back to London by your preferred route. The first two legs were around 65 miles so each required fuel stops for the small tanked motorcycles. Me, I filled up the following Thursday.
The briefing was comprehensive and to the point. We had had recent experience of lost rider syndrome and were keen to avoid a repetition. There was an extra briefing for new riders to explain more fully the drop-off system and staggered formation so that everyone understood. And finally, there was the ritual reading of the disclaimer. You have been warned!
The first leg:
So we set off - well actually I left a few minutes early to mark the Tippets Corner turn-off onto the A3. By the time DOF arrived leading the main peloton, it was obvious that the ride had already been broken up by traffic lights and congestion, such that it was nearly 10 minutes before Les appeared wearing the Last Man reflective jacket. We then had a fair bit of A3 to do before turning off for the Old Portsmouth Road. Except about 10 riders decided that instead of staying on the A3, they would turn off at the Shannon's Corner slip road as if to head tor Raynes Park and Wimbledon. A certain amount of confusion arose until sorted out. Apparently/allegedly they had seen some other Harleys go that way and despite (a) the route being not as briefed, (b) the other Harleys not wearing C&F regalia, and (c) it breaking the golden rule that you stay on the road you are on until clearly signed to deviate, off they went.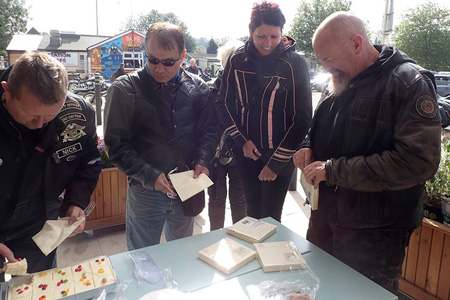 Back on the A3, we continued South-West in the autumn sunshine. Much enjoyment was had of the carefully selected back-roads that DOF and Les and others had recced. Regrettably, a geriatric Tour de France had also decided to go that way, and it is fair to say that the lanes between Esher and the A25 near Gomshall were as clogged as some of the arteries adjacent to us. The next bit of the route got better and better as we finally cleared the A25 villages, and circled round below Godalming to pick up the A31 (with some clever teleporting by Nick). A quick blast soon had us at the Alton turn off where a welcome 30 minute stop allowed for tea, coffee and a full on cake surprise from Pete Rogers whose "special" birthday was imminent. DOF then led the small tankers away for a refuel prior to the next leg. There was some live steam action on the Watercress Line, but no time to investigate on this occasion.
The Second Leg:
More of the same, but with fewer cyclists, less gravel and more twisties. DOF did himself proud with a fine selection of English by-roads, heading us roughly between Alton and Goodwood, and then back in a big loop via Petworth into Milford before crossing the A3 for the last time to get to the lunch stop in Hurtmore. Poor old Patric da Silva's V-Rod shed its belt, but he was soon recovered back to Warr's where Les was on hand to open up so the bike could be put safely away.
Lunch stop:
On arrival at The Squirrel we had the chance to appreciate a freshly gravelled car park, before forming a very orderly queue at the bar to get food and beverages. The weather remained seasonably warm so it was no hardship to sit outside and swap tall tales. All too soon it was time to depart back to normal life.
Well done to DOF and his crew; the ever unflappable Les Channing as last man and Nick and myself as roving marshals. Next ride out is Sunday 11th October, when Chapter Safety Officer Nick Deal will lead us on an exploration of the lesser known bits of Surrey, ending up at The Spotted Cow in Lower Bourne near Farnham. Meet at 611 Kings Road from 9.30am. Remember to come with a full tank of petrol, some cash in your wallet and your current HOG membership card.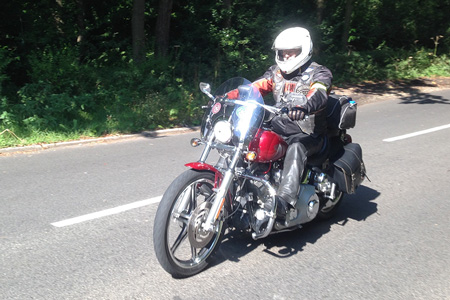 Michael Howers - C&F Road Captain and Editor (and occasional roving marshal)
Photographs by: Steve Graham and Marcus Wuest.