Staycation³
19th June 2016
As ever, we benighted few trapped within the curtilage of this sceptred isle were forced to compensate for not being able to attend the Chapter's Premier overseas event of the year, in this case at Portoroz in Slovenia. So we went to KENT! By way of various London Boroughs, Surrey and East Sussex.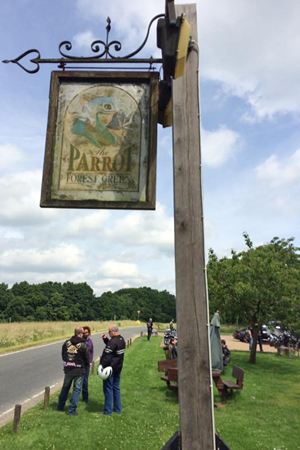 Diligently planned and expertly executed, like all C&F's Sunday rides, this one offered absolutely everything to amuse new and experienced riders alike. Having achieved Tibbetts Corner, the participants were confronted with 16 miles of A3 (with no drop-offs!) before we engaged with the temperate rain forest of England in June. And if there's a more beautiful place, lead me to it.
Coffee stop was at the ever reliable Parrott Inn at Forest Green. Except the Thursday staff who I spoke to had omitted to remind the Sunday staff that we would be there at 11 - unphased, they needed only a few minutes to get the percolators on and to break out the biscuits. At this point it was almost hot outside! We took coffee in the summer sunshine to the aural accompaniment of the shooting school in the next field.
Suitably refreshed, we set off again, through to Ockley and then (unintentionally) down the A24 through Kingsfold. I had missed a turn, but it was simpler to continue down the A24 than try to turn everyone round. Left onto the A264 saw us heading towards the next big challenge - negotiating the London to Brighton cycle ride. Regrettably, we came across them as they were negotiating quite a steep up-slope, and whereas we had plenty of Milwaukee horsepower to make light of the climb, they had no such privilege.
A quick detour for a petrol stop satisfied the needs of the 48 and a Street 750, and all too soon we were at the destination, where the carvery was in full swing. An idyllic spot to eat al fresco with a pint of shandy (other refreshments were available).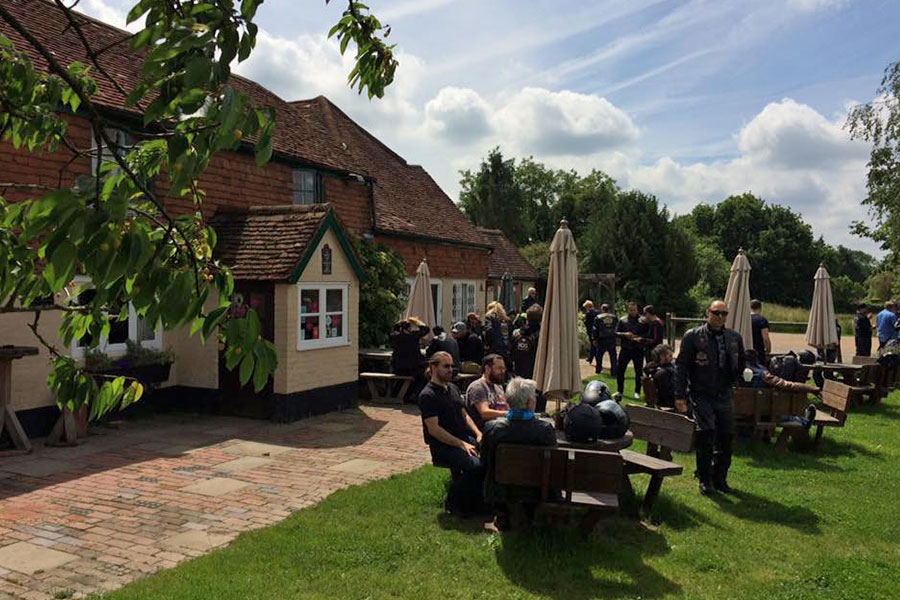 Some name checks and thanks as ever - welcome to all our new riders, including Lisa on her smart black Street 750; welcome also to Cathy and daughter Izzy looking splendid on mum's new Heritage. Special mentions to Nigel for going ahead to mark the A3 drop-off, and to Kai for helping to marshal the fuel stop.
Last but by no means least, huge kudos to DOF and Les for helping out in the shop and on the ride. I believe there were 61 participants, it certainly seemed a good number and we attracted many appreciative stares and waves. There is something about Milwaukee iron that no other make can better.
Next ride is 17th July, see the web-page for full details.
Michael Howers - C&F Road Captain
Photographs by Robin Pickup