Con-CAFÉ-Nate
17th September 2017
Bikes start arriving at 611KR early and we start the participant swipe-in. 9:30 and the road brief starts, one rider arrives after the gates have closed and unfortunately has to be turned away. On with the briefing, new riders identified and a more thorough explanation of the drop off system is given for their benefit, all others know the way we do things so a brief reminder for the rest.
10 am and more than 50 of us leave Chelsea heading out towards the A3, under very dark skies but the roads are dry. Rykas Café at the base of box hill, is the first of 3 café stops on todays ride. Arriving in the car park we are greeted by the sight of a fantastic 1970 Plymouth Superbird, owned by Chapter members Sue and John Castleman. They were on their way to show the car in Brighton but made the time to join us for coffee, while affording us the opportunity to have a close look at this fantastic American Classic.
Our next stop will be Loomies Moto Café, situated in the South Downs. We left Rykas heading south on the A24 before making our way onto the A272 towards Petersfield via the A281, this is one of my favourite roads, great for enjoying the thrill of riding a Harley-Davidson.
It is a great pity that over half the ride didn't actually get the opportunity to enjoy this great road after the person marking the left turn at Rudgwick village, abandoned the junction instead of waiting for the last man.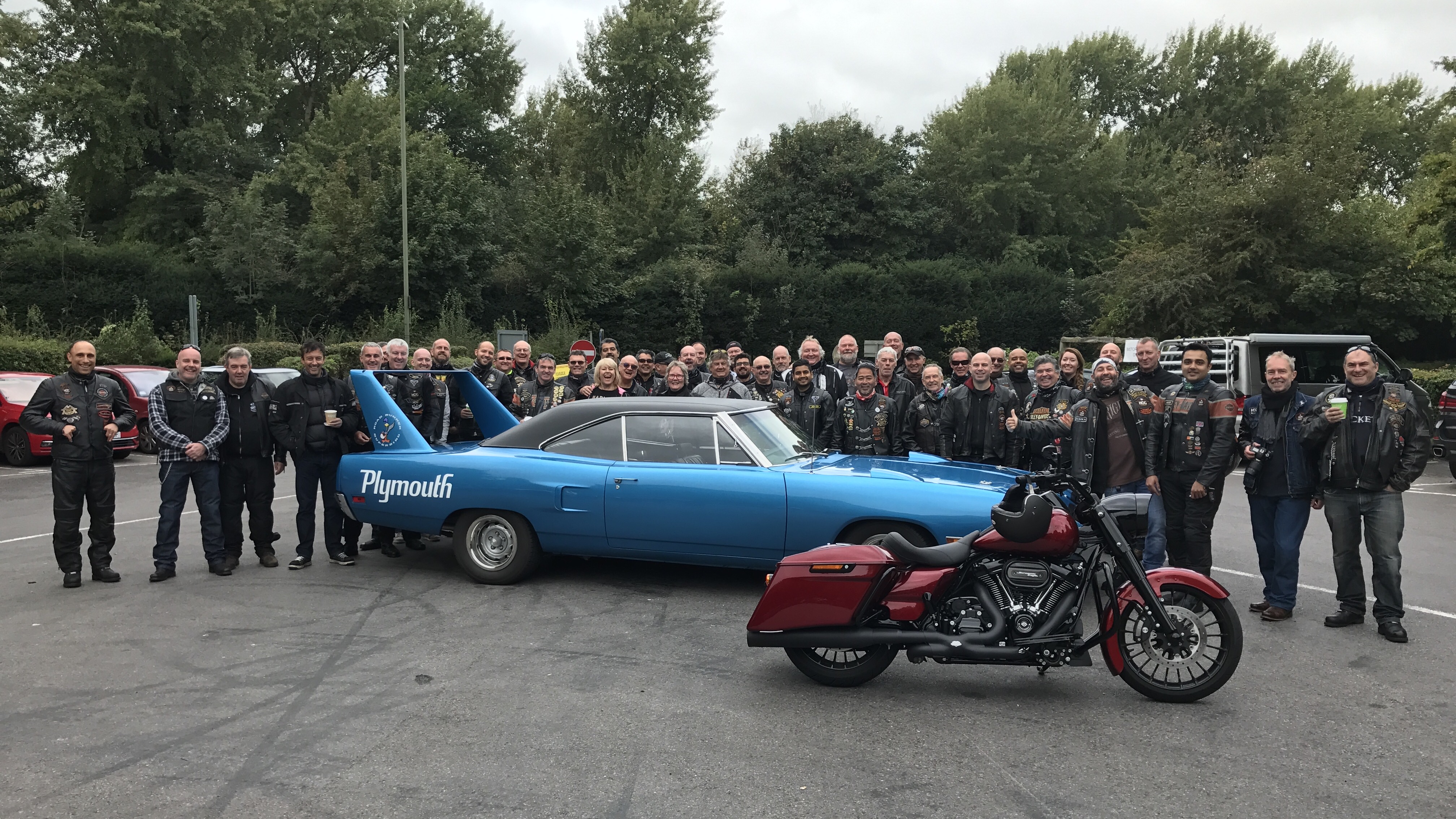 As ride leader I arrived at Loomies with around 13 riders and Fred as last man arrived about 30 minutes later with 15 more.
13 Brave souls carried on to the Apache Café our final destination. This final 30 miles was ridden in bright sunshine on some wonderful roads. Things did however go down hill again as 13 hungry riders made our way into the Apache Café only to be told "sorry, kitchens closed"!!!
Steve Graham - C&F Road Captain
Photographs by C&F Photographer Steve Graham