Lock Stock
17th July 2016
Mid July is holiday season isn't it? Well, not for C&F as eighty-one members signed in for the ride in very warm and muggy weather. Who would have known that a few weeks ago the UK had decided to 'Brexit' as this C&F ride-out reminded us what a truly cosmopolitan lot we are.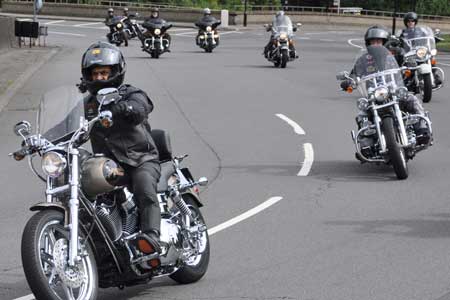 A leisurely gathering with the briefing taking place at 09.30 before a 10am departure, over Putney Bridge, down the A3 and off at Ripley then into the countryside. Tea break an hour later at The Parrot, Forest Green for a second month in a row as it is in a perfect location and they don't bat an eyelid at having 70-80 riders in for an early morning cuppa. We departed heading south and into the wilderness, well we ventured to Cox Green before moving West in narrow country lanes without hardly a soul in sight. Eventually we popped out onto the A281 and headed south again, through Alfold, Loxwood, Plaistow, Shillinglee, across the A283, Lickfold, Lodsworth to the famous A272. Here it got a little busy, fortunately the traffic was all going the opposite direction to Cowdray Park where it transpires a certain road captain named Oliver was spending the day dressed in his finest. Anyway, at just under 67 miles and much to the relief no doubt of the smaller tanked Sportster riders we literally took over the quite large fuel station in Easebourne. One wag (who won't be named) decided he should top up his Road King, must have got all of five litres in!
As usual we saw a members head home at both tea and fuel stops to get on with Sunday chores or for some getting back to work. A quick note though that when we are ready to go that means everyone as Les was kept waiting while some donned helmets, gloves etc.
Anyway, fuelled up, ice creams eaten and away we went, within a couple of minutes we had lost the traffic again and headed up towards Fernhurst on the edge of West Sussex. A while later we moved into Liphook, Hampshire where we joined the A3 northbound for a rubble through the Hindhead Tunnel before darting back into the countryside at the Milford exit.
We nearly lost a couple of riders on the northbound A3 as they were overtaking a truck and missed the Milford exit, imagine my surprise as I turned left just around the corner from footballer Ashley Coles house in Hurtmore to see these two C&F stragglers turning in too - what luck! Now having said that, as far as I'm aware all the drops-offs played their part throughout the ride and from memory we had approximately six or seven new riders to the group as well.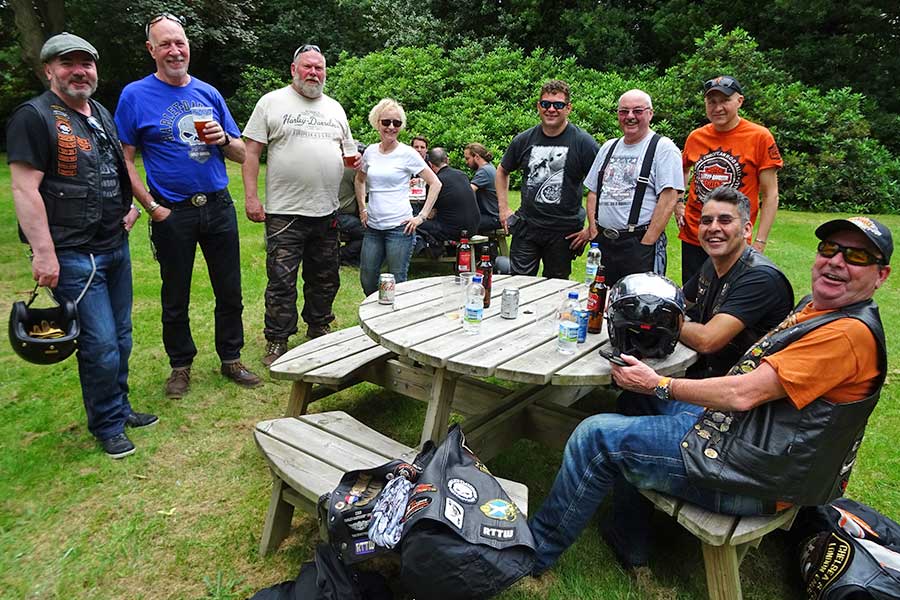 Towards Puttenham, then Pirbright via lots of lovely deserted country lanes and before you knew it (well, 2pm actually) we arrived at Bisley Shooting Ground with a total ride mileage of just over the hundred.
Alex, the MD of Bisley Shooting had arranged a fabulous hog roast in the private secluded grounds of the 1895 club house where we relaxed for the next hour or two. It should be mentioned that HOG members can get group discounts for shooting days at Bisley which has an official link-up with H.O.G..
Tons of members turned out, well as said 81 to be precise. Peter Rogers was sporting his new gold rocker, Roger Line took time off from boating to reacquaint himself with the chapter. We had a few Meridian members along to and many of the usual riders including Nick de Demco who'd advised we'd ridden past his place.
Well, that's my UK day ride done for the year but I still have the Champers trip to lead and my thanks go to Mick and Rob for RC marshalling duties, Steve Graham roved as the official man with a lens trained on us and Les held steady as last man with our latest RC recruit (Jonathan Gooch) acting/learning the ropes as the very last man.
Next up, is a Saturday special. Steve Graham leads 'Motorsport Saturday' from the Ace to Silverstone, Saturday 6th August followed a week later (Sunday 14th August) by 'Last of the Summer Wine' led by Paul Wiggins.
Nick Deal - C&F Safety Officer
Photographs by C&F Photographer Steve Graham