Autumn Folly
16h October 2022
We gathered from 9am, ok a few members had made early appearances and John Warr had undertaken unlocking duties and supplied the coffee and croissants - merci beaucoup.
Doors closed at 9.30 for the ride brief and approximately 37 members had decided it was a nice enough day for a 'stroll' into the countryside. My opening welcome was 'friends, Romans, countryman' and it was actually a reference to where we were headed. Billy's café/diner is located on Stane Street in Billingshurst and is an ancient Roman Road.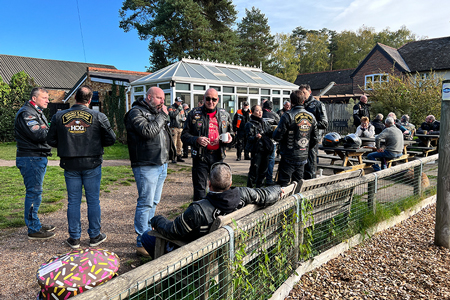 But first we had to exit Londonium, out via the '20 is plenty' Putney High St and south onto the A3, off at Burpham/Merrow and a wind through country roads towards the Mytchett Canal Centre (and café). This took in the once amazing Pirbright Bends, they have been ever so slightly spoilt by the speed zealots and now have average speed cameras almost throughout at 40s and 30s. In the damp though they are still lovely roads and we stopped here for a leisurely tea break and 'Steve our resident photographer Graham' proposed here to be a good picture opportunity.
Chatter done, we mounted and pushed on with part two. Headed past Tongham Brewery and down the Old Hogs back before peeling off into the country towards Elstead. Through Elstead and out the other side we crossed the A3 for the second time and headed along the Petworth Road before turning left at Shillinglee and further twisting through open countryside with hardly another vehicle in sight.
Popping out the far side of Loxwood, we turned towards Billingshurst and the job was done. Sure, we saw a few cyclists but not many and no horses! Billy's was expecting us and the car park was much thinner than the previous week, we had a large slice of the restaurant to ourselves, reserved (thanks Fran). Suitably fed, the group started to depart back to whatever else was to take up the rest of a Sunday afternoon.
Thanks to all for marking duties, I don't believe any posts were abandoned not missed. My thanks also go to DoF (last man), RCs Andrew, Jonathan, Fred, Ray and Steve on the lens. Also, good to see a few Meridian crew had made the trip too.
Autumn Folly was indeed a nice little jolly!
Nick Deal - C&F Safety Officer
Photographs courtesy of Steve Graham - C&F Photographer