Essex ENSA
16th October 2016
My first recce for this ride was way back in August, the sun was shining and all was good in the world as I rode the route I had planned in Google maps. My what fine country roads I thought, with just the right mixture of twisty bits, I even stopped for an Italian ice cream!
Fast forward to the morning of Essex ENSA.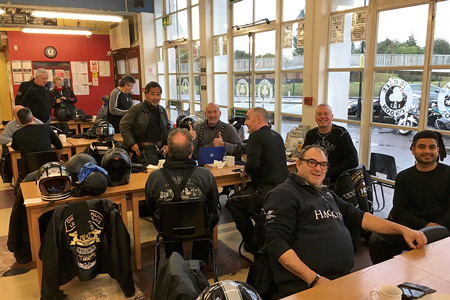 It was 06:00 and still dark when I awoke from my slumber and I remember thinking what is that funny noise outside? As I opened the door to let the dog out she looked up at me with those "you must be joking" eyes; It was pouring! Oh well it may brighten up, I thought, and its no great shakes to me, I work on a bike all year round so I donned my Gore-Tex, got the bike out of the garage and headed off to the Ace Café to meet the 4 that I definitely knew were coming, 3 of whom were Steve Graham my last man, Jonathan Gooch RC & roving marshal & Andrew Eborn who was on my final recce with me.
On arrival at the Ace, the rain was still pouring, I saw 2 Harleys parked up, surely not? Yes one belonged to Ray Campbell who is well known for not riding in the wet stuff!! The other was Mark Luckhurst, well there was a start, and over the next hour one by one the hardy Harley riders arrived, even John Moran on his brand new Milwaukee Eight! As I was swiping each member in I couldn't believe my eyes at the numbers! 18, 19, 20, 21, 22, the ride was on!
As we left the Ace, after the indoor briefing, the rain was still coming down but it seemed everyone was up for it with hardly an "ooo it's wet" moan to be heard. So we joined the boring A406 North Circular for the ride round to the Woodford turn off where Andy did a grand job of marking a difficult exit for us all. On to the Woodford New Road and on out towards Essex through Epping Forest and into Epping itself, where I thought, hang on, it's not raining! On through Epping and past North Weald aerodrome, from where Hawker Hurricanes flew during the 2nd World War. Onwards into the Essex countryside, I was starting to enjoy the twisty bits when I thought, hang on, slow down the road is wet and slippery, a quick look down eh? It's quite dry, look up, blimey a bit of blue sky! On arrival at our coffee stop in Thaxted, Mark the manager had lit a roaring log fire for us and had put the coffee on, lovely! Earlier that morning he had commented on how committed we were when I called him to say we were definitely coming and that there were 22 of us.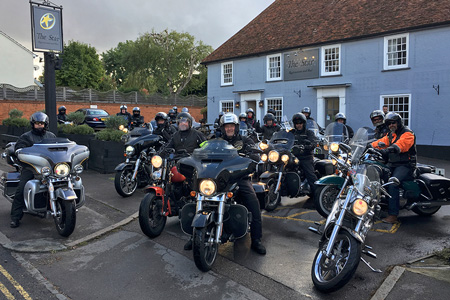 We left the pub car park after coffee as the sun started to shine and from then on apart from a 5-minute spell when it looked like the heavens were going to open up again the weather improved. We arrived at our destination, The Imperial War Museum Duxford at 1300 in bright, quite warm weather (or am I becoming accustomed to the cold?) A group photo outside then a few members headed off home while the rest of us entered Duxford for some food and a good look around the exhibits.
Very big thank yous go to Steve Graham (Last Man) Jonathan Gooch RC (Roving Marshal), and Andrew Eborn for helping out (with Steve and myself) on the Recce. I would also like to thank everyone of you that came along on the day and made it a great ride out, and if anyone ever tells me Harley riders don't like rain, they shall receive a swift cuff around the ear and be told to behave, because guess what? I didn't see one sports bike in the Ace car park that morning, did you?
Next up Michael Howers Remembrance Ride on Sunday 13th November, see you all there.
Fred Woolcott - C&F Road Captain
Photographs by C&F Photographer Steve Graham