The Vicar of Dibley
16th July 2023
Don't worry, the Vicar of Dibley was not a theological debate about the existence/non-existence of a deity. Phew! It's simply a Chelsea & Fulham H.O.G. motorcycle ride (Sunday worship) that (I was reliably informed) explored four counties outside Greater London: Surrey; Royal Berkshire; Buckinghamshire; & Oxfordshire. Ending at the beautiful village of Turville, the actual location of the fictional village, Dibley from the famous BBC British (Richard Curtis) comedy sitcom, The Vicar of Dibley (starring Dawn French).
Sometimes ignorance is bliss, given the yellow storm warning (whatever that means) and high winds from yesterday (cancelling Saturday's Goodwood Festival of Speed for the first time in 30 years). I firmly put my faith in a higher power & prayed for good weather.
A handful of C&F H.O.G. riders were super early arriving at 611 KR with smiles, high spirits & immediate banter. After the obligatory pre-ride briefing and a light-hearted moment reciting a tongue-in-cheek, The Warr's prayer, we made ready.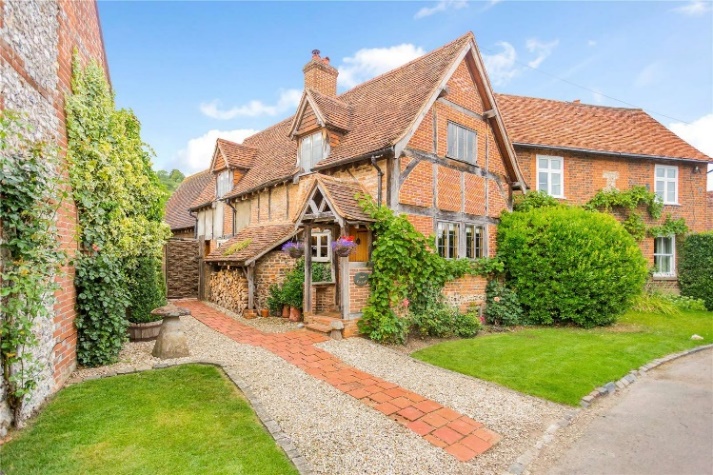 The Warr's prayer
Our Father, who art in Chelsea,
Harley be thy name,
High mileage come; thy service done; at Warr's as it is heaven.
Give us this day of winding roads ahead.
And forgive us our trespasses, as we forgive those cyclists who trespass against us.
And lead us not into BMW GS temptation;
but deliver us from electric (car) evil.
Vance & Hines is the kingdom, the V-twin power and the glory, for revver and ever.
Amen.
(Other religions, or not - are available)
Route: Conveniently exiting London as quickly as possible via the A3 at Esher Common, the ride then started to reveal picturesque villages, a hint of village greens & the type of country roads that lay ahead. Stefan & his team warmly welcomed us at the Cricketers (Horsell Birch) for tea, coffee and brownies, plus a convenient place for a group photograph.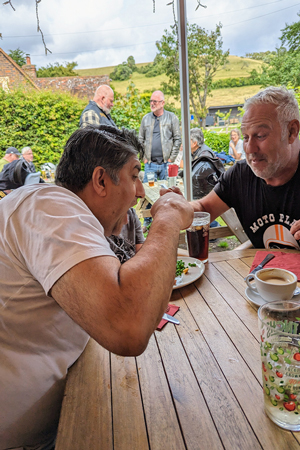 Refreshed, we then departed, onwards to Turville, paying homage to the culinary delights of Bray: Alain Roux's, The Waterside Inn and Heston Blumenthal's The Fat Duck, & The Hind's Head (to whet your appetite). Following on to picturesque, Maidenhead Thames riverside (via a convenient petrol stop for those wishing to brim their respective tanks).
Nice to see the obligatory closed road making an unplanned guest appearance (so thoughtful, it's been a while...) which gave us all a convenient opportunity to execute a perfectly synchronised feet up 'U-turn'. It was C&F rider poetry in motion and should have been set to music - well, that's what I'm saying.
Final destination: What a great reception James & his team afforded us at the Bull & Butcher, Turville, as we assembled for Sunday lunch. All I can say is, much cheesecake was consumed (allegedly). The heavens opened with a brief biblical deluge while we thankfully sheltered during lunch. The strategy of electing to don my waterproof jacket before setting off (when dry & not raining) seemed to do the trick. On a dry meandering road through Marlow, I thought, should I continue to contemplate the existence, non-existence of a deity?
No, instead, I thought I'd think about the next C&F ride, Big Blue (Sunday, 20 August 2023) - Paul Wiggins, Ride Leader.
Ride safe and may your deity (if you believe in one, or not) go with you.
Special thanks to John Warr for opening 611 KR with traditional Warr's Harley-Davidson generous hospitality with copious coffee, water, croissants & pastries.
Thanks to the C&F H.O.G RCs for their professional support, both on the Recce & also on the day itself: Andy Eborn; Nigel Gaskin; David (DOF) O'Flaherty & last (literally) but not least, Andrew Papas, (last man).
Thanks to all C&F for playing your part so well, marking all junctions so clearly, for your fellow riders.
Thank you, C&F (and Meridian) H.O.G for working together to make this ride such a memorable, successful day. I am proud to call myself a C&F H.O.G member.
Jonathan Gooch - C&F H.O.G. Road Captain
Photographs courtesy of Shad Haque (Steve Graham - across the pond)
Looking forward to the next C&F H.O.G ride, Big Blue, Sunday, 20 August 2023
Ride Leader: Paul Wiggins
Sponsoring Dealer - Warr's Harley-Davidson®
Your Chapter is proudly sponsored by Europe's oldest Harley-Davidson dealers, Warr's, established in 1924.
Unlike most Sponsoring Dealers, Warr's go way beyond the norm and continue to support your Chapter by providing funds, facilities, hospitality, refreshments, exclusive Chapter offers and most importantly a heartfelt welcome in store and on the road.
They ride with us.
Their continued support enables us to retain our unique FREE Chapter membership and offer the best rides & events this side of the Rockies!
Therefore, we think it's only right that our Sponsoring Dealer deserves Chapter member loyalty in return and we expect all members to make Warr's dealerships their first choice for all their Harley-Davidson requirements.
Ride with Pride!
Be sure to wear your H.O.G. patch and Chapter rocker on all official rides.