The Two Georges
16th April 2023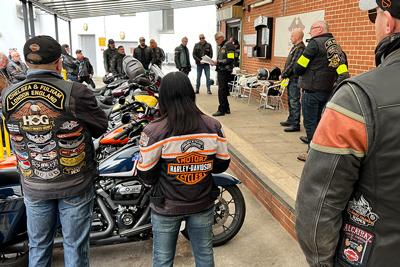 I think we'd all reluctantly accept that there seems to be a never-ending stream of bad news in recent times; the cost of living, an awful war in Ukraine and industrial actions aplenty across the UK to name just a few. So, to lift the mood let's begin by ripping up the old question of "do you want the good news or the bad news first"?, as on this occasion there was only good news! Good news in that 52 of us turned out for the ride on our trusted steeds , more good news in that we raised £363 for Macmillan Cancer Support on the day and , yes, more good news in that we welcomed 6 new members on their first C&F ride. It was great to meet Dominic, Jamie , Tony, Bill , Moses and Gillian on the day and we look forward to riding with you on many more C&F rides in the future.
So, by 8.30am Rob Warr had already opened up shop and got the teas and coffees on and a handful of keen, early-bird members had arrived ahead of me... what a great way to start the day! However, as I enter the showroom to bid good morning to Rob, I hear various expletives and much muttering coming from his general direction as he battles in vain with the computer for us all to log-in. The sketch of Basil Fawlty threatening to give his broken-down car a "dam good thrashing" comes to mind as he wanders off with laptop under his arm in the direction of the roof of the dealership. Thankfully he didn't launch it off the roof and I'm told that the laptop will be given a chance to redeem itself.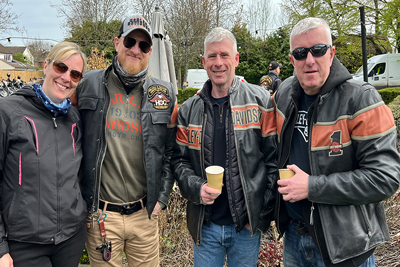 With 52 of us logged in (well, ok, names and C&F membership numbers written on several sheets of paper!), then a pre-ride brief by yours truly and we're hitting the road, heading west along those delightful country lanes called the A4 and then the M4. Hardly the most exciting of starts, but the ever-patient C&F members follow in immaculate staggered formation and we're soon winding through Datchet, Windsor, Twyford and then on to Charvil for our coffee stop.
This is where our wonderfully generous members showed their true colours and put their hands in their pockets, raising a remarkable £363 towards Macmillan Cancer Support... Well done & thank you to you all! On the subject of "well done & thank you", I cannot speak highly enough of the entire team at The Wee Waif, in particular Debbie who came in on her day off to set everything up for our arrival. They funded the cost of the teas , coffees and lots of amazing homemade cookies that gave us a much-needed sugar rush for the 2nd half of the ride.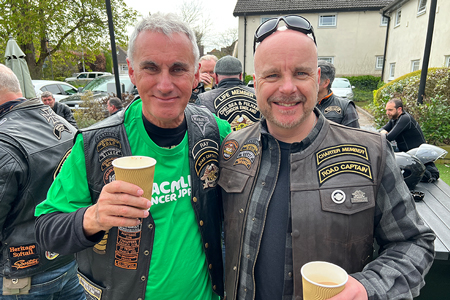 Caffeine and sugar levels replenished we hit the road for part 2 of the ride, enjoying the views of Sonning-Eye, Goring and Streatley whilst riding past the front doors of both George Clooney and the late, great George Michael's amazing houses. At the aforementioned coffee stop one of our members had commented on the good weather that I had "organised for the day" and in doing so clearly offended the weather-gods , as we were soon riding in rain after pulling out of the Wee Waif. His name shall remain anonymous on the proviso that he thrusts a large beer in my hand in Hungary in June! An hour and a quarter later we arrive at the Halfway Inn in Newbury, where Nick and his team serve up fabulous food with great service. It's a shame that I wasn't able to get more of us booked in there for lunch, but I do hope that the remaining 30+ members were able to enjoy a good Sunday lunch elsewhere locally.
A few thank you's to finish off if I may. Well done and thank you to all of our members who helped the ride flow on the day by diligently marking the drop-off points I placed you in, this really does make the difference in terms of keeping everyone together as a group. A particular thanks to Rob Warr for opening up early, for getting the 'kettle' on and for doing a great job as Last Man! Thanks also to Andrew, Andy, Johnners, Steve and Nigel for expertly supporting the ride with their Road Captain duties, and to Steve again for capturing so many great photos... what a great team!
Ray Campbell - C&F Road Captain
Photographs courtesy of Steve Graham - C&F Photographer