Wild Frontiers
14h August 2022
As we know, if you're not turning left, is that as possibly unfortunate as not going south...?!
C&F rides are invariably far easier if we rumble southwards, very often along our favourite artery, the A3, before turning off into leafy lanes and the like.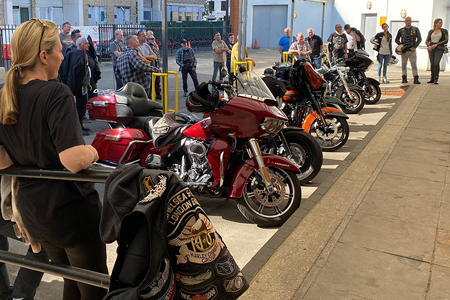 Travelling in a northerly direction potentially encompasses the issue of navigating a posse of bikes through and across urban features and hold-ups that do not lend themselves to such a journey. Nevertheless, with the indomitable spirit and expert watchful eyes of C&F Road Captains, we venture forth...
On this sunny morning occasion, instead of going immediately north, we travelled westwards to navigate over Kew Bridge, up to Hanger Lane turning right onto the jolly ol' merry-go-round of the North Circular. Turning off at Brent Cross our posse was ably assisted by two of our experienced riders, Daniel & Wiktoria, cleverly marking the tricky drop-off to aid everyone.
Kicking our heels at the southern tip of the A1M, we turned off, eager to ride into leafy lanes at the South Mimms junction, only to be brought to an abrupt halt by a police road block. Having completed another recce ride only the day before, this was a surprise. With all the hot weather and lack of rain over the last few weeks we had a hayfield fire ahead with two fire tenders in attendance. Following a quick discussion with the police we headed off on our agreed detour. This though, brought us all to another police road block much closer to the incident itself - which, frankly, didn't appear too harem-scarem. On this occasion a polite chat with the very friendly policewoman allowed us all to slowly trickle through the roadblock in single file towards our coffee-stop very close by.
Maddie and her team of guys n gals looked after us all for a welcome break in the sunshine. Brookmans Pub provided all we needed for our coffee stop, including an air-conditioned interior for those seeking cool relief. Water and hydration was as much an issue to be mindful of on a hot day's ride as well as the welcome coffees and teas.
Just after starting our second leg deep into the Hertfordshire countryside, we pulled into a spacious garage to quickly fill up the Sportster tanks. Besides skirting through the edge of Hertford town, the lanes and villages of Essendon, Bayfordbury, Wareside to Nazeing were a delight with an eclectic mix of countryside pads and quaint village terraces.
Hopping over the A10 just before our final destination, we passed through yet more El Scorchio countryside and the parched straw-yellow grounds of Hertfordshire Golf and Country Club peppered with emerald greens and panting golfers. Turning right, yet again, we were greeted with smiles and handshakes by the staff of Paradise Wildlife Park as we were ushered gently into our cordoned-off parking area.
Peter Sampson and daughter Lynn, owners and keepers of the park had kindly allowed us all free entry to the National Speedway Museum and the entire grounds of the zoo with many attractions and places to eat. Unfortunately, all the big cats were finding the temperatures too much and mostly flaked out in the shade.
A very big thank you indeed to Road Captains Steve, Fred and Jonathan (Last Man) for their superb marshalling, and particularly Steve for photographs too. Also a warm welcome to Chris and Jenny who joined C&F for their first ride, we look forward to seeing you both again, as well as our great members and regulars for many more rides to come.
Paul Wiggins - C&F Road Captain
Photographs courtesy of Steve Graham - C&F Photographer