Last of the Summer Wine
14th August 2016
While imbibing some fine English wine a few months ago it occurred to me that there must be a fair selection of vineyards and wineries in our fair country. After all, I believe the Queen's favourite champagne is grown and produced in Sussex.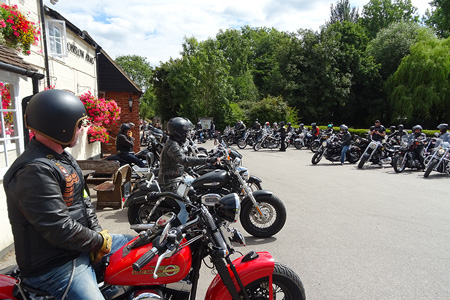 Sunday came, so did the sun - and so did just over 50 Harleys. An oft used escape route, we trundled off after 'morning prayers' through Putney and headed south down the A3. Taking the Ripley turnoff we were all soon bimbling along gently towards West Clandon.
Making a southerly direction, it took us past the home of that wonderful, yet sadly departed, petrol-head programme's HQ, Dunsfold. On one of the recces with Steve, we dropped in to the charming flower-bedecked Onslow Arms at Loxwood - a most fair and picturesque location on the old Arun Canal. Making enquiries, we were soberly informed that no such undertaking for coffee could be entertained as the pub remained firmly shut and did not open its doors until 12noon. Well, all until a lady having a casual smoke outside, asked if there was a problem as we'd come out rather quickly... turned out she was the landlady, and we weren't to take any notice of her staff, and of course, we could all come for coffees well before opening. Sorted. And, indeed, when we arrived, the car park had been cordoned off, and a fine coffee/natural break period ensued - thank you, Rosie..!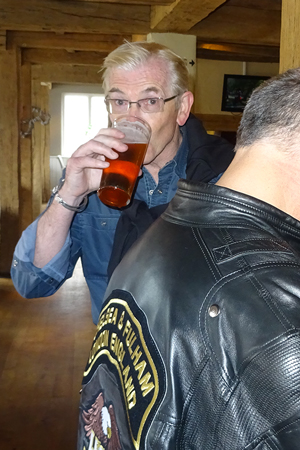 Sweeping anti-clockwise through yet more sun-kissed verdant glory, we stopped for a quick Sportie petrol top-up in Pulborough before winding north through some tighter lanes to Coneyhurst. All together, although they were far from easy to spot, we were passing by four different wineries, and the lanes were about to get smaller and leafier still. But before that, we had a wee spell heading east on the well trod A272 through Cowfold.
Turning north yet again, some wonderful dark and cool tree-tunnels found us weaving past Bolney Wine Estate, hopping over the A23 and through the tightest lanes yet before negotiating a very short run of the A23 and north into Handcross and our final stop at The Red Lion - and Sunday lunch in the sun. What else.
A very big thank you to Steve Graham as Last Man; Nick Deal, Jonathan Gooch and Mick Newstead as most able bodied Marshals.
Paul Wiggins - C&F Road Captain
Photographs by Martin Champion