Red Baron Ride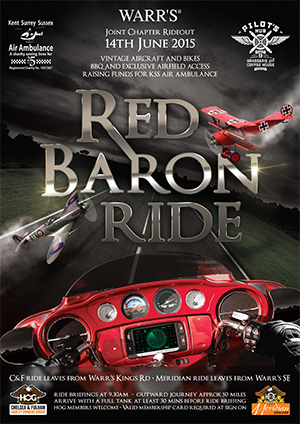 14th June 2015
It's a shape and a sound and a feeling, and it seems to apply equally to Harleys and Spitfires. In this iconic year, the 75th Anniversary of the Battle of Britain, the opportunity arose for both Chapters to attend the Redhill Air Show (held in support of the Kent, Surrey and Sussex Air Ambulance) and to witness a flying display which included a Mark IX Spitfire, the 'Spirit of Kent'.
Many apologies for the delay in this ride-out write-up appearing, but there has been so much going on in the Chapter this year that the months have just flown by.
Anyway, if you can remember that far back, this ride out took place on Sunday 14th June. Both Chapters (Chelsea & Fulham and Meridian) were involved as is traditional for JW's very own event. Each Chapter met at its own dealership at 9am for a 9.30 briefing; we set off at about 10am for a shortish 50 mile run to Redhill Aerodrome via the A3, A240, Purley Cross and then off down the A22 to Redhill via Caterham and some leafy back lanes. On the recce we had included a big loop out to Woldingham but on the day this was a casualty of time wasted recovering lost riders after a drop-off failed to stay in position. Please, if you want to ride with us (more than once) there is really only one important rule: if you are dropped off at a junction or other location, you must stay there until the last man comes along and collects you. The last man is always introduced at the rider briefing, and often attention is drawn to the motorcycle they will be riding. If you do not do this simple task, hours of planning and arranging routes and timings are wasted, and there is a real risk of people getting properly lost. Or following you home for tea and a roast dinner. Or in this case a barbecue.
Nevertheless, we did all arrive at Redhill aerodrome, and pulled into a specially set aside parking area very close to the taxiing lanes for the air display. Each motorcycle had been issued with a distinctive orange headlamp sticker which made the task of the local marshals easy in identifying our Chapters' bikes and directing them accordingly.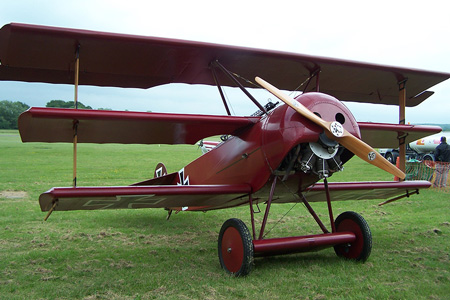 A sumptuous HOG roast had been laid on, for the miserly sum of £15 which also included a donation to the chosen charity, the Kent, Surrey and Sussex Air Ambulance. You can read more about the invaluable work of this outfit. The Kent, Surrey & Sussex Air Ambulance costs £6.5 million per annum to provide two helicopter emergency medical services (HEMS) to the people of the South East. Their life-saving service is almost entirely dependent upon the community, particularly the groups, clubs, business, organisations and individuals who fundraise on behalf of the Kent, Surrey & Sussex Air Ambulance. This is one of the outfits that you really hope you will never need, but it is very reassuring to know that they are up there if you do.
The flying display began at 2pm, but being a busy private airfield there was constant activity to keep the interest of the aviation enthusiast, with several helicopters apart from HEMS being based there, including Sky News and Surrey Police. While we were there the replica Fokker Triplane arrived, as originally flown by the Red Baron after whom the ride was named. The main event was of course the display over the airfield of the Kent Spitfire.
Spitfire IXe TA805 is based at the historic former RAF Battle of Britain fighter station, Biggin Hill. It is displayed as a flying memorial to all those who flew, built, maintained and were protected by the Spitfire during the Second World War. TA805 can been seen flying at air shows and events all over the south east. This particular Spitfire was built almost too late for WW2, although it possibly took part in the flypast celebrating the end of the war in 1945. It spent most of its career with the South African Air Force, returning to the UK in 1992 for a full restoration, resuming flying in 2004.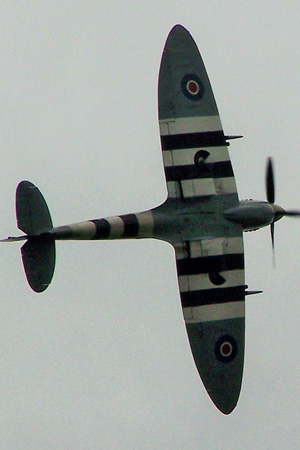 I am not going to attempt to describe the amazing appearance and sound of this aircraft as it performed above us for about 20 minutes. I will leave it to a proper poet, John Gillespie Magee, Jr. who actually flew Spitfires with 412 Fighter Squadron (RCAF) in 1941.
 Oh! I have slipped the surly bonds of earth,
 And danced the skies on laughter-silvered wings;
 Sunward I've climbed, and joined the tumbling mirth
 Of sun-split clouds - and done a hundred things
 You have not dreamed of - wheeled and soared and swung
 High in the sunlit silence. Hov'ring there
 I've chased the shouting wind along, and flung
 My eager craft through footless halls of air...
 Up, up the long, delirious, burning blue
 I've topped the wind-swept heights with easy grace
 Where never lark or even eagle flew -
 And, while with silent lifting mind I've trod
 The high untrespassed sanctity of space,
 Put out my hand, and touched the face of God.
I love sonnets.
Thanks to John Warr for arranging a great day out and Mick Newstead, wearing a high visibility vest, for last man duties on a BRIGHT ORANGE ULTRA, and all the other Chapter Officers who helped out. About 250 riders from both Chapters attended, raising a goodly number of £s for a worthy cause.
Michael Howers - C&F Road Captain