Breakfast at Smiths of Smithfield
Sunday 13th December
The last 'unofficial' C&F meeting of the year was well attended with about 25 enjoying a splendid cooked breakfast. There is no organised ride to or from this event, so it really doesn't matter if you are recovering from a dodgy knee or took one look at the weather and jumped in the car. The unseasonably warm and wet weather removed the risk of salt damage to precious chrome, but the epidemic of building work in Central London ensured a liberal coating of dirty water; there was still plenty of cleaning to do the following day.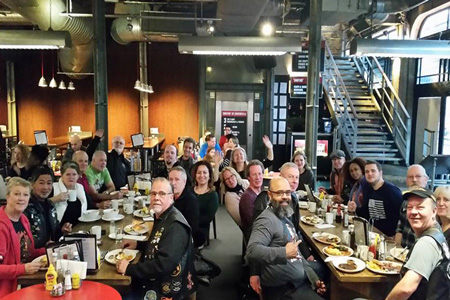 Thanks to Gavin for making the table bookings.
The first get together of the New Year will be the monthly social on Thursday 7th January at The Rose, opposite the Kings Road dealership. On Thursday 3rd March there will be a 'Meet the Chapter' pre-season event, followed on 13th by the first Sunday ride-out to be led by Oliver. Keep an eye on the C&F web-site and Facebook pages for more information.
A Happy New Year to you all.
Michael Howers - C&F Road Captain
Photographs by Emine San.