Alpha Bravo Charlie
13th April 2014
A Papas tour-de-force
I love doing the ABCs competition, one of the benefits of H.O.G. membership. Each year whilst out riding your beautiful shiny Harley-Davidson, you assemble a series of photographs of your bike and the 'official' road signs of the places you have visited. Each letter can only be used once with town signs; some letters are a bit more difficult than others, with Z and X being a particular challenge.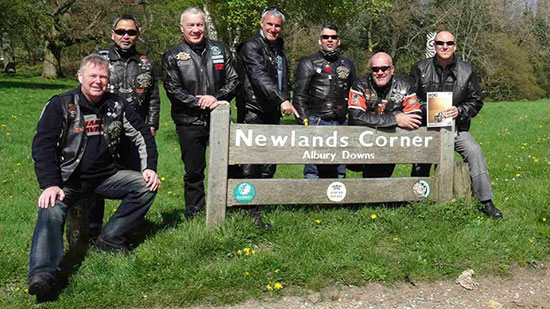 Since the rules were changed a few years ago any 30 Boroughs, Counties or Countries are now acceptable. An entry of 50-65 points is readily achievable and will give the entrant a chance of winning some really quite nice prizes. In 2013 I ended up with 57 points, which will qualify me for the usual patch and pin, a commemorative tee shirt and maybe some other trinkets as well. The overall winner will score an unbelievable 180 points or so, which requires 26 towns, 30 Boroughs/counties, two National Parks, visiting every Harley dealer in the UK, attending every possible official H.O.G. event or rally, and probably having a good tour of the USA as well. I reckon you have to take a sabbatical to be in with a chance of winning as well as having a very healthy budget. This year (2014) has started well for me with some lovely days out touring Surrey and snapping a few signs.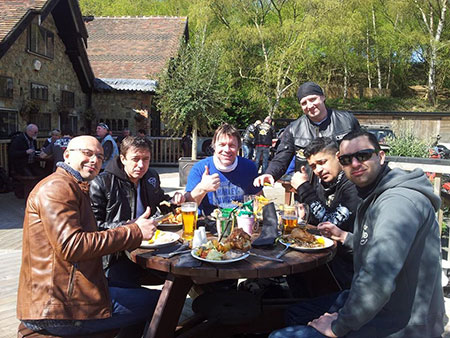 At the pre-Christmas planning meeting, Andrew Papas suggested that we resurrect the ABCs as the first rideout of the season; this is simple for us to organise and has the benefit of making the participants talk to each other as they have to (a) take responsibility for their own route to the lunch stop, and (b) act co-operatively in selecting good, safe photographs. This is a good way to make new friends and get to know other C&F riders. Particular attention was paid at the briefing to discourage stopping in inappropriate locations such as where the road had central double white lines or where parking and waiting restrictions operated. John Warr generously donated a bag of goodies for the winners.
This year, the secret trick was to introduce the duck. It had come to our attention that in previous years some teams had (shock, horror, scandal!) taken some pictures on the way to 611 Kings Road thus enhancing their score with some pre-captured images. In order to prevent this utterly deplorable gamesmanship, each picture for this day's competition had to include the special biking duck, one of which was issued to each team at the briefing. Departure time was set for 10.30am, and arrival at the lunch stop was a notional 1pm (The Grasshopper in Westerham, for an excellent Sunday lunch and maybe a half of local ale. Other beverages were available).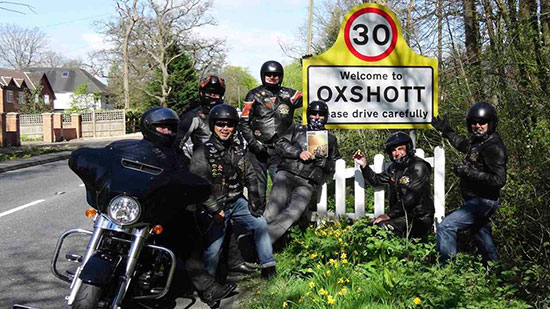 So having seen the various teams off into the distance, the organisers had a lovely leisurely ride themselves, via Putney, Barnes, Richmond Park, Kingston, Surbiton, Ruxley, Leatherhead, Box Hill, and along the A25 to Westerham. More miles for the Chapter Challenge! We got to the pub at about 12.30pm, and within a very few minutes of 1pm everybody had arrived and were queuing up for a delicious and very good value carvery, eaten outside in the Spring sunshine.
Judging didn't take long, and the winning team was called... you guessed it... "We don't give a Duck". Successful team members were Vince Barber, Calvin Brown, Gavin Caddick, Cogs Greenhow, Dave Philpott and Jonathan Gooch. The team acknowledge that Gavin led most of the route but had to leave early so missed the acquisition of bragging rights.
Thanks to all who came out to take part, and especially to Andrew and Sarah Papas for organising everything. Us Road Captains didn't really have anything much to do, which made for a nice relaxing start to what has been already a fantastic riding season, with so much more to look forwards to.
See you all on the 1st June for the 90th Birthday celebrations.
Michael Howers - C&F Road Captain
Banner biker duck photo courtesy of Jonathan Gooch.