Pre-Pioneer Ride
13th March 2005

John Warr gives the Pre-Ride
By 8.30 on Sunday morning a considerable number of 'early risers' had made their way to the King's Rd Warr's dealership for coffee and croissant. Considering the chill in the air and the fact that some had already ridden in excess of 40 miles to get there that was no mean feat.
By 9.30 over 50 machines and riders had assembled and the Pre-Pioneer Run was already shaping up to be the best attended so far. Pre-ride briefing given, the group assembled up in Michael Rd. and filed out onto the King's Rd with Inspector Michael Howers expertly holding up the early morning Cafe Latte brigade while the group thundered off down towards deepest Surrey.
Last man Peter 'Scottie' Scott swept up the few drop offs between King's Rd. and Tattenham Corner where the group stopped briefly in the car park. Back on the road and the ride was now following the exact same route the 350 or so pre-1915 bikes would follow the following weekend on the 67th Pioneer Run organised by the respected Sunbeam Motorcycle Club.
The course takes lots of twists and turns as it flows out through Reigate, on to Crawley and then out into the countryside proper to Handscross, Cowfold and Henfield. In all its about 61 miles and was without incident thanks to some great riding from the group and expert marshalling by the Road Captains who do a fabulous job without anyone really noticing - true grit!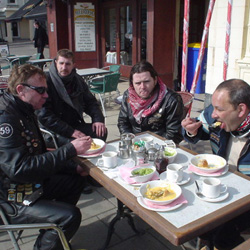 Scottie, Aidan, Smiley and Oron eat-out
Arriving in Brighton and heading for the sea front the group turned into Madeira Drive. Even the weathered locals, who are well used to unusual sights, took a double take as the 50 odd C&F rode into town and parked up en masse. Then followed a quick Ride out de-brief, group picture by Ian Mutch and the ride was officially over. Lots stayed, some had Fish & Chips at the Regency opposite the burnt out pier, which was very good if somewhat chilly, and some said their goodbyes and headed off for Sunday lunch at home. In all a good run, great turnout, and most importantly a lot of fun.
John Warr - C&F Chapter Director