Remembrance Ride 2017
Sunday 12th November
Once again we had a glorious Autumn day for our Remembrance Ride 2017. This was a bit of a relief as I'd been woken up at 7am by rain bouncing off the windows. There were 54 participants (down from last year's 71) but still a good number to shepherd through the Surrey backroads. I understand that a few of you didn't get a proper headlamp sticker but if you need this ride for a rocker don't worry as we will refer to the booking in records to verify your application.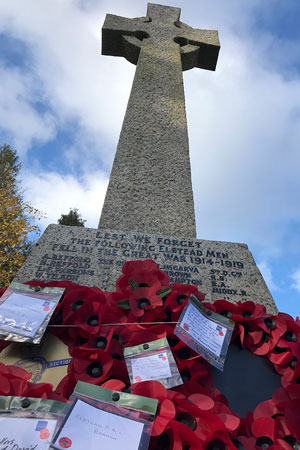 Doors opened at Warr's Harley-Davidson Kings Road just before at 09.00hrs. Thanks to Rob Warr for opening the shop and providing a light repast, but especially for getting his hands dirty helping out Dan Riman with an overfilled oil tank. The pre-ride briefing was promptly at 09.15hrs, following the ceremonial slamming of the gates. We had no late arrivals. Since our policy is no briefing - no ride, it is vital to arrive on time to avoid disappointment. Everyone must have listened as we had no problems on the ride, for which I am grateful.
We needed a prompt start to get out of London before local roads were closed for local Remembrance ceremonies. This also meant we were constrained to use the A3 to get us into the picturesque bit of Surrey as soon as possible, so the first bit of the ride was the same as DOF's last month. We apologise for the lack of variety but plead force majeure. If we use the Esher Common turn-off from the A3 again (to get onto the A244), remember that if you zero trip B at Warrs, you turn left at 14.5 miles. You use trip A to keep track of miles driven since filling up with petrol, don't you?
Coffee and the two-minute silence took place at the ever-welcoming Parrot at Forest Green. There is also a farm shop and separate coffee shop there, so it enabled everyone to have a decent and relaxed refreshment stop. It was also noticeably colder there than in Chelsea making that heated clothing even more welcome after the restart. The duration of the stop was calculated to ensure we could get through Cranleigh just after their roads reopened, and then on into the more picturesque part of the route, glorious with autumn colour. Placing and collecting drop-offs continued without issue until the roundabout just after crossing the A3, where the route bears left for Elstead. Suddenly there was no-one in the mirrors, and I didn't think that the closely following Range Rover would want to help marking the junction. Fortunately, everyone guessed correctly (the other choice being the north-bound A3) so we all arrived in Elstead a very few minutes later. After parking up, we gathered at the war memorial for a group photo, wreath laying and a short poem. Thanks to Gavin for his help.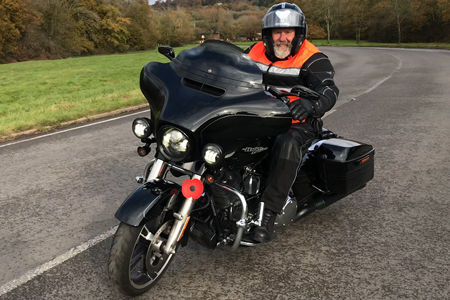 The ride ended there but there were several local hostelries where lunch could be obtained if desired. The roast beef at The Mill was very good, thanks to Andrew Eborn for table booking duties. There was no organised run back as we were so close to the A3 it made for an easy return journey. Me, I continued running in duties on my magnificent new Softail LowRider by seeking out some more bendy lanes back to Sutton.
Total mileage was 57, once again demonstrating that big fun doesn't require big miles, just to be with lots of friends on wonderful motorcycles.
Thanks to DOF as last man, safety officer Nick and the other road captains for helping out - Les, Wiggs, Ray and photographer Steve, whose pictures accompany these words.
I have been asked for the text of the poem I used for the reading; it was this, by A.E. Housman:
  Here dead lie we because we did not choose
    To live and shame the land from which we sprung.
  Life, to be sure, is nothing much to lose;
    But young men think it is, and we were young.
Next events are first Thursday at The Rose (December 7th) followed by Breakfast at Smiths (December 10th).
See you there.
Michael Howers - C&F Road Captain
Photographs by C&F Photographer Steve Graham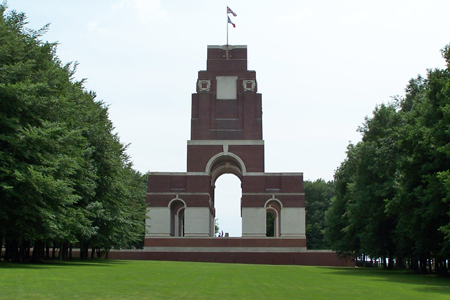 2018
November 11th 2018 will be the 100th anniversary of the end of the Great War, and it will coincide with Remembrance Day. I am proposing another foreign trip along the lines of Ypres in 1914, again restricted to holders of at least a Silver Rocker. This time we will be going to Albert in France, situated behind the Somme battlefield; we can lay our wreath at the poignant and enormous Thiepval memorial. We will travel out Saturday morning, going 90 miles by backroads from Calais to Albert; we will spend two nights in Albert; Sunday will be the big tour and wreath-laying. We will travel home on Monday. There are several hotels in Albert and its environs, and as the main British focus will be on Ypres so we should have the place largely to ourselves. In due course, I will supply the details of the crossing and hotel(s) to book and the other admin details.