The Loop of Henle
12th September 2021
Go West
Having performed the original recce the Sunday before (Sun 05 Sept 2021) which fully utilised the M4 to escape West out of London (as quickly as possible to seek out new country roads) I discovered the day before the actual ride date that the M4 would be closed (between junction 3 & 4b, both directions, all weekend). Undeterred, I got busy tweaking the existing planned route & re-recced the changes to ensure that the alternative route (the parallel, but slightly more technical, A4) would suit our needs. Having finally decamped off the M4 at junction 8/9 (remembering the 9th junction number from the number Pi (the circumference of a circle divided by its width) & the 5th decimal place (3.1415926) from the ride briefing) we descended upon the town of Henley-On-Thames.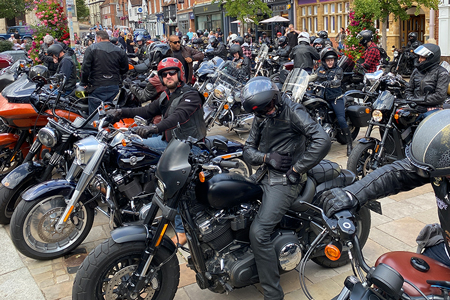 Diuretic (coffee) stop
The beautiful sweeping road into Henley-On-Thames revealed a hint of promise to what further roads lay ahead. Crossing over the Grade I listed, five arched historic bridge built in 1786, we rumbled into the town square to park up for a relaxed coffee stop. After the customary group photograph, we dispersed to numerous coffee establishments to celebrate all things diuretic (coffee).
The Wiggly bit
Bidding Henley-On-Thames a fond farewell, we then embarked on the next phase of "The Loop of Henle" (est. 60 miles) taking in sweeping country roads & country villages of Royal Berkshire.
The final destination, (The Winning Post, Winkfield) extended a very warm welcome with a bespoke barbeque, virgin cocktails & plenty of room for our very own VIP parking.
The weather delivered on its promise of being super dry & warm. The conversation continued to flow (following on from the previous coffee stop). Those new members on their first C&F H.O.G. ride made new friends & old friends re-affirmed old friendships as we started to make plans for the next ride (Fall Ride, Sunday, 10 October 2021) & future ride plans for the remainder of 2021 & into 2022 & beyond.
Special thanks to John Warr & also, to Rob Warr for opening 611 KR with copious coffee, croissants & pastries.
Thanks to the C&F H.O.G Road Captains (RCs) for their professional support, both on the Recce & also on the day itself (Rob, Col, Andrew, Steve, Ray & Andy as last man).
Thanks to all C&F for also playing your part & marking all junctions so clearly for your fellow riders.
Thank you, C&F (& Meridian) H.O.G for working together to make this ride such a memorable, successful day. I am proud to call myself a C&F H.O.G member.
Jonathan Gooch - C&F Road Captain
Photographs courtesy of Steve Graham
Looking forward to the next C&F H.O.G ride, Fall Ride (Sunday, 10 October 2021)
Ride Leader: Nick Deal
Sponsoring Dealer - Warr's Harley-Davidson®
Your Chapter is proudly sponsored by Europe's oldest Harley-Davidson dealers, Warr's, established in 1924.
Unlike most Sponsoring Dealers, Warr's go way beyond the norm and continue to support your Chapter by providing funds, facilities, hospitality, refreshments, exclusive Chapter offers and most importantly a heartfelt welcome in store and on the road.
They ride with us.
Their continued support enables us to retain our unique FREE Chapter membership and offer the best rides & events this side of the Rockies!
Therefore, we think it's only right that our Sponsoring Dealer deserves Chapter member loyalty in return and we expect all members to make Warr's dealerships their first choice for all their Harley-Davidson requirements.
Ride with Pride!
Be sure to wear your H.O.G. patch and Chapter rocker on all official rides.