Breakfast at Smiths of Smithfield
Sunday 11th December 2016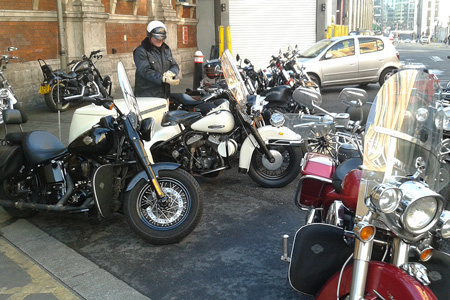 I must confess that I didn't go on a bike myself this year, but plenty of people did enjoy the December sunshine on their shining steeds, including a sizable (20+) contingent from our sister Chapter, Meridian. I had booked for 25 but over 50 turned up, and the restaurant coped extremely well. I did get a slight moan from the manager about giving them a bit more notice, but the original booking was made on 14th November and later increased - it was just the numbers that caused the issue. Still, they seemed to have plenty of food and were willing to please. The food was excellent.
Oldest bike was Tony Dowden's 1969 Servicar, and it's good to see him making a speedy recovery from a broken leg (not bike related). Our very own Janet Jones has also been in the wars and she had to order a special left handed breakfast. At least the cast on her right arm was colour coded for the festive season. Our regular female riders' contingent was well represented by Lou, Lisa, Cathy and Nicole.
Our next meeting will be Thursday 5th January at The Rose, opposite the King's Road dealership. On March 2nd, there will be the 'Meet the Chapter' evening where you can find out about 2017's events and mark up your diary with those all-important dates. The premier event will be the St Tropez Harley festival in May; numbers are limited, so if you're hankering for the Riviera ambience, get your application in soonest. Details are here.
As in previous years I shall be providing a fall-back Sunday ride for those who can't make it to St Tropez.
Many thanks to all the attendees, and especially to Smiths of Smithfield for making us so welcome.
A very Happy Christmas and a Peaceful New Year to all our members and their families and friends. See you on the other side!
Michael Howers - C&F Road Captain