Surrey Stroll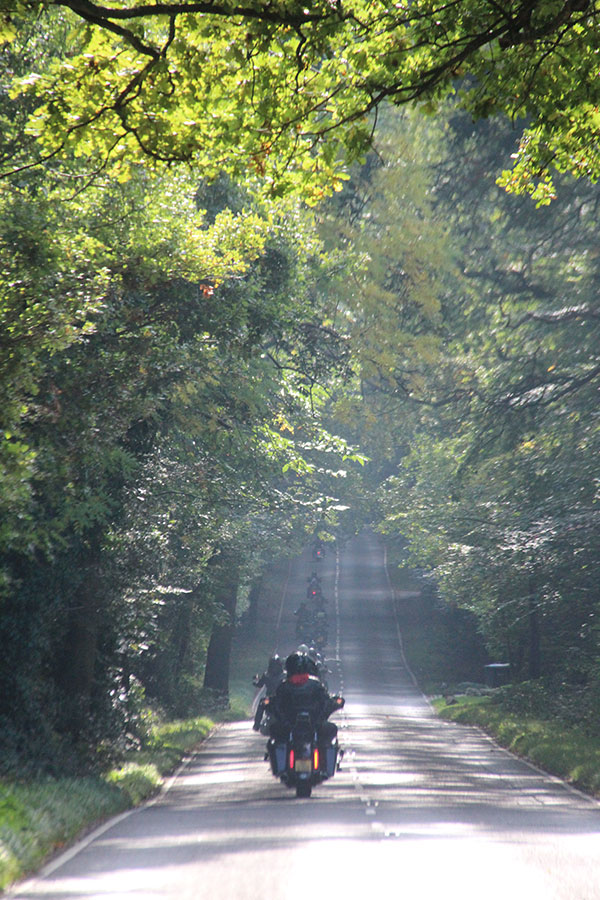 11th October 2015
As ordered, the weather was suitably fine and sunny albeit with a little nip in the air but not bad at all for October with dry roads to boot! I arrived early, maybe 9.15 to find several members already present including Les who had unlocked and was setting out the breakfast nibbles and warming the coffee machine.
We had competition today in the form of the annual 'Brightona' event (no guessing where), however by the time the briefing commenced a posse of 50+ riders had turned up, signed in, got coffee, chatted and were waiting for the off. However, we have to do that briefing for a reason and that is to inform of the days proceedings, how, when and why. To ride in a safe manner and to leave a suitable gap between you and whatever is in front of you, staggered formation where possible and breaking that where required. One rider perhaps wasn't paying quite enough attention and later managed to ride into the back of another members rear end - it's a Harley it won't be cheap! Please take note for future rides, we brief you to inform but we don't ride the bike for you.
Ok, that done we tried something new and that was not forming up blocking Michael Road as we pulled away. Rather, we left from the parked positions then approached the roundabout outside The Rose before turning right to reach the Kings Road then off through Putney to the A3. From reports this seemed to work better and must have been less annoying to the neighbours.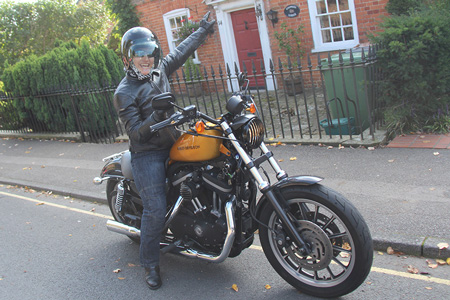 It is always slow heading out of London, this was no different and instruction had been given that we would exit the A3 at Esher Common which was 13.8 miles from 611 KR. We then headed through Esher, skirted around Weybridge heading to Chertsey before disappearing into the countryside at Lyne. We cruised through Virginia Water to look at some rather large (read expensive) houses before finding faster lanes in Longcross, past Fairoaks Airport and out towards Deepcut and various army barracks. It was just gone 12 when we pulled into the Basingstoke Canal Centre 48 miles out, here we took tea, refuelled the sporties and had ice-cream! Then we were off on part two out through nice twisties, through Pirbright and along to Puttenham where we joined the Hogs Back briefly before darting into the wilderness. Elstead, Hurtmore, on the A3, off the A3 (less than a mile) then Milford to Haslemere. Eventually from the direction of Hindhead we approached Frensham Ponds and ten minutes later we had arrived at The Spotted Cow, Lower Bourne. The pub was welcoming, at least I thought it was and they had reserved half the inside seating although again many members stayed seated outside owing to the weather. Fed and watered, members began to drift away, mostly back in the direction of London. The road crew and a few others decided it was time for pudding and so apple crumble and spotted dick were ordered followed by coffee before the off.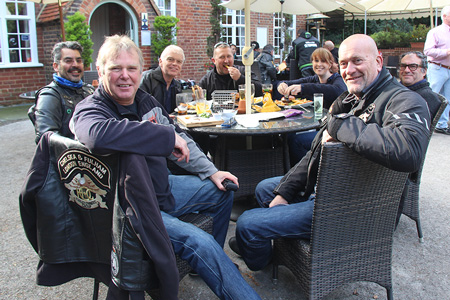 Eighty nine miles wasn't bad for an October ride where we stuck to one county, we had one chap with his leg in plaster on the back of an Ultra, a Singapore patch wearer, Pierre on his new California Highway Patrol Road King, a real motorcycle cop (off-duty), both the official photographer (Manuela) and the reserve (Steve) and hopefully a content posse of the C&F!
My thanks to Les for being at back (again) and to Fred and Steve, our latest Road Captains for marshalling duties. One more ride to go to complete 2015, see you on 8th November for Remembrance.
Nick Deal - C&F Safety Officer
Photographs by Chelsea & Fulham's Photographer Manuela De Castro and Steve Graham.