Fleeting Visit
11th July
As noted within the pre-ride report we had ordered sunny and warm conditions for the July ride, and we were not disappointed. Despite the odd light shower on the way up to Warr's for the pre-ride briefing we had what we had ordered. A total of 50 riders arrived at Warr's for the pre-ride brief and it was great to see a number of new riders joining us for their first ride out.
The slow and boring bit was quickly dispensed with and we found ourselves on the open roads of Surrey dropping down into West Sussex. As the temperature rose, so did the challenge on the excellent country lanes. All was working to plan until we found a road diversion which had sprung up within the last two days since I had ridden the route, most annoying, however it was not a major challenge and a swift diversion route was followed.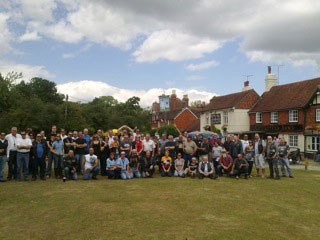 All came to a grinding halt when we found out the diversion route was also closed and a swift U-turn back on to the original route was taken, I am sure it was very funny at the time when the drunk decided to change the direction arrows on the diversion signs, however we take all of these issues in our stride.
Back on the original route and out through some of the finest villages and biking roads in West Sussex taking us down through Lickfold, Lodswoth and on to the A272 for the bash back to Wisborough Green, where all riders arrived safe, in need of liquid refreshment and food.
Thank have to go to Terry Ferguson for being the last man and for turning up in his tropical riding attire (beats a high viz jacket any day), and to Andrew Papas for his marshaling duties at the tricky junctions.
David O'Flaherty - C&F Road Captain