Blow Away The Cobwebs
11th March 2023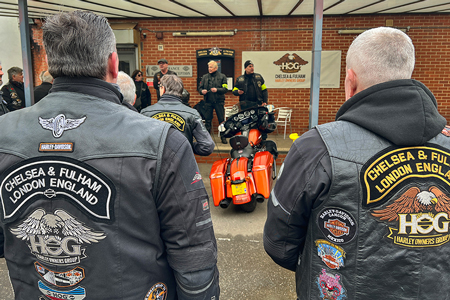 Because of my late delegation to arrange a ride for the day, I only managed to recce the ride 3 times. Two of those had been in sleet!
The week running up to the ride saw freezing overnight temperatures.
On the actual day we got lucky with the weather, and 37 eager riders turned up for the briefing at Warr's on the Kings Road.
Coffee, Pain au Chocolate and briefing done, we set off over Putney Bridge and head down to Chessington on the A3.
Down Pebble Hill and through the village of Betchworth brings us to the coffee stop at The Seven Stars Leigh. Steve the landlord had kindly agreed to open early before his busy Sunday lunch service to entertain us. Chocolate biscuits and hot sausage rolls were forthcoming and fresh lemon tea was laid on for one discerning member.
Group picture done and we head south to Newdigate, Rusper and Pease Pottage.
The roads are quiet and remarkably not muddy considering its prime muck spreading time for the farmers.
Through the village of Balcombe and down a fairly technical series of steep bends bring us to the causeway at Ardingly reservoir.
I've arrived with Steve Graham.
There is no one behind us.
We stop and turn our engines off.
Silence
Silence... for an unbearingly long time.
I'm feeling desolate.
Eventually we hear the rumble and the see the long line of bikes.
Onwards to Ardingly then turn north through Turners Hill to The Smith and Western restaurant at Lingfield.
It's a large and very efficient place and a hearty cowboy lunch was soon enjoyed by all.
Thank you John Warr for opening the dealership and providing breakfast and to Johnners for last man duties. Many thanks also Steve, Wiggs and Nigel for RC duties.
Andrew Eborn - C&F Road Captain
Photographs courtesy of Steve Graham - C&F Photographer