All About "U"
10th July 2022
Over the last two (plus) years, humanity has had to rethink the meaning of self, be more thoughtful, socially aware & empathetic. Increasing positive social behavior to act & behave in a manner for the greater good. Thinking of others, rather than ourselves.
All about "U" is a Chelsea & Fulham H.O.G. motorcycle ride that will take in the beautiful roads & scenery in & around Hampshire.
For those egalitarians amongst us, you will be relieved to discover, that this ride is not about the individual "you" but about the letter "U" (to ensure the final Sunday lunch destination is conveniently close to London for the return journey home).
Having performed the final recce, the Sunday before (Sun 03 Jul 2022) in good weather, on the day, the weather looked even more promising, evoking recent memories of (37C) in Saint Tropez with SPF 50, ventilated jackets & litres of water to keep cool & hydrated. C&F H.O.G. riders descended upon 611 KR with smiles, high spirits & immediate banter.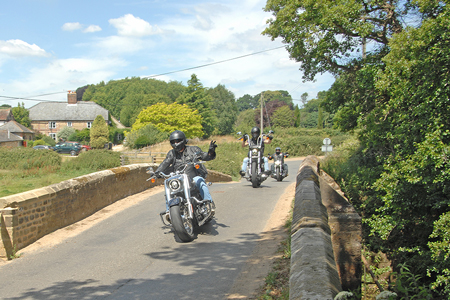 Route:
The Oxford English Dictionary defines the verb Schlep as a slow, difficult journey, especially one that you don't necessarily want to make.
After conveniently Schlepping as quickly as possible via the A3 - exiting at the Elstead junction (thanks to Daniel & Wiktoria) the ride then started to reveal picturesque villages, village greens & small bridges over rambling rivers. The rural road through the beautiful small town of Bentley & then into Lower Froyle to the Anchor Inn revealed a hint of promise to what further less-trodden Hampshire villages & roads lay ahead.
Coffee stop & final destination:
While the staff of the Anchor Inn Hampshire rallied together to welcome us for tea/ coffee/ soft drinks (pretty sure they had forgotten us even after checking in with them the previous Thursday) we busied ourselves with a group photograph. Those wishing to brim their respective tanks with Petrol could then go to ensure they were ready for part 2.
The "U" bit:
After a relaxing coffee stop, we gave Lower Foyle a momentary pause while we tackled Part 2 of the ride which took in all road types, including the favourite A272 that we would momentarily share with a sprinkling of Sports bikes.
No, we didn't experience "déjà vu" or a "glitch in the matrix". Those that paying attention noted that the final destination looked vaguely familiar. C&F H.O.G returned to the Anchor Inn for those that had made pre-reservations for Sunday lunch.
During Part 2, there was (1) an unplanned top-dressed road to encounter & (2) an unplanned road closure (no indication from the previous Recce, council website etc.) - but that wasn't going to dampen our spirits & gave us more time on the splendid A272 & a bit longer on the A31.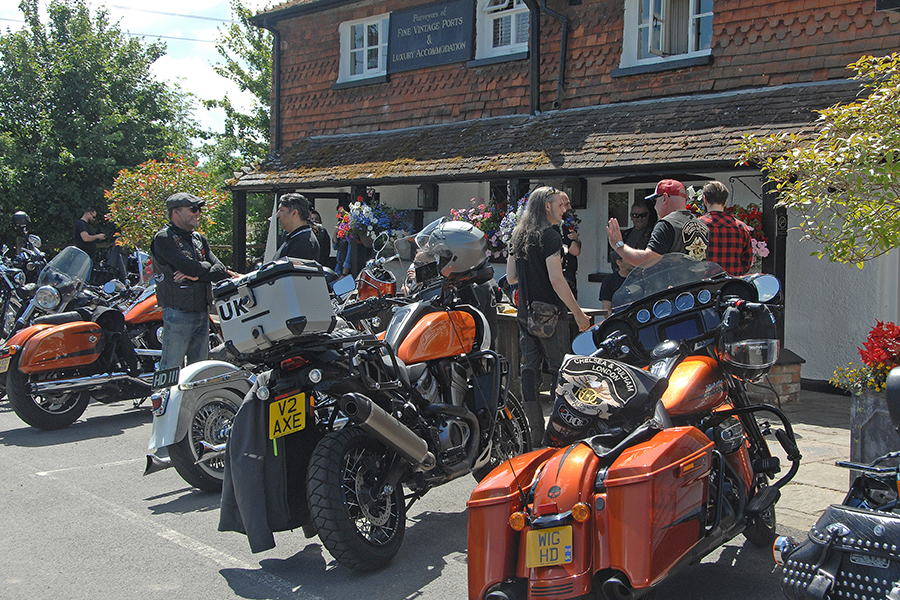 The weather delivered on its promise of being super dry & warm. The conversation continued to flow (following on from the coffee stop). Those new members on their first C&F H.O.G. ride made new friends & old friends re-affirmed old friendships as we started to make plans for the next ride & future ride plans for the remainder of 2022 & into 2023 & beyond.
Special thanks to John Warr & also, to Rob Warr for opening 611 KR with traditional Warr's generous hospitality with copious coffee, water, croissants & pastries.
Thanks to the C&F H.O.G Road Captains (RCs) for their professional support, both on the Recce & also on the day itself: Rob Warr, Andrew Papas, David (DOF) O'Flaherty, Paul Wiggins & Andy Eborn - as last man.
Thanks to Paul Wiggins for stepping into the Group Photographer 'breach' (or is that 'shutter') for the day.
Thanks to all C&F for playing your part so well, marking all junctions so clearly, for your fellow riders.
Thank you, C&F (& Meridian) H.O.G for working together to make this ride such a memorable, successful day. I am proud to call myself a C&F H.O.G member.
Jonathan Gooch - C&F Road Captain
Photographs courtesy of Paul Wiggins (Steve Graham - last seen in Sweden!)
Looking forward to the next C&F H.O.G ride, Wild Frontiers (Sunday, 14 August 2022)