West 5
10th April 2022
Brilliant name for the ride because it would remind everyone to turn off the westbound M4 at junction 5... where I couldn't leave a drop off.
With 3 days to go ,the highways agency announce out of the blue a M4 weekend closure for the ongoing improvements. For goodness sake.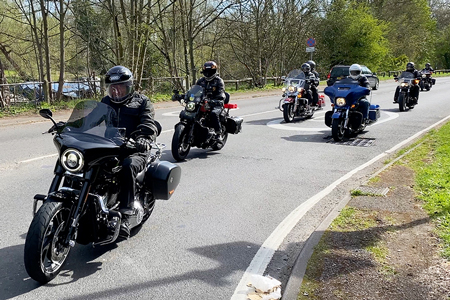 Luckily I've got a backup route via the A316 that will take us out to Runnymede where we can pickup the original route.
Thank you Nigel Gaskin for marking a red route drop off at Richmond Circus.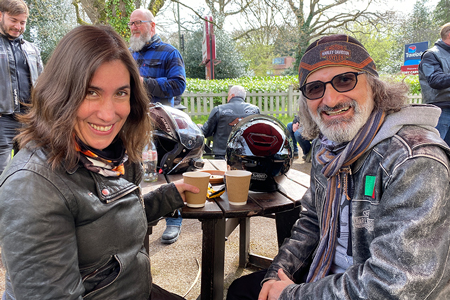 3 months before I realised that the coffee stop had gone out of business due to C19 ,and the Sunday before found out that the lunch stop ( which had new owners since I originally recced it in 2020) was unsuitable due to the fact that they didn't have any plates.
On the Thursday before the ride I headed out in the snow flurries and managed to sort new venues.
Morning of the ride is sunny and fine for the 42 members attending
Thanks to Rob Warr for opening the dealership for us to meet and to our sponsor Warrs H-D for providing breakfast.
Briefing given to a good mix of senior members, new members and one newbie.
10:00hrs departure... cruise to Runnymede where I am surprised to see the Thames Valley Chapter riding towards me.Luckily we've cleared the big roundabout at the M25/A30 junction... just imagine two chapters meeting on a roundabout.
Coffee stop was as promised without a muddy, pot-holed dirt road approach.
Chapter photographer Steve Graham takes the customary group shot and we depart for the country roads of Hampshire.
It feels good to make good "progress" on some of the few remaining national limit roads in the Home Counties and eventually we arrive at The Angel Hotel, where Wendy is our host in the restaurant for a delicious carvery lunch.
Thank you Jonathan Gooch for last man duties and Road Captains Steve Graham,Nick Deal and Ray Campbell for assisting.
Next ride Steve Graham's "2 Roses" on Sunday May 15.
Andrew Eborn - C&F Road Captain
Photographs courtesy of Steve Graham - C&F Photographer