Water's Edge
9th April 2017
The weather promised much in the run up to Water's Edge and so it turned out to be the hottest day of the year so far and much removed from typical April weather.
On the day I arrived just before the opening time to find at least 30 riders already present and members just kept arriving going over the 100 barrier eventually. Water was handed out, there was courtesy croissants and coffee for the pre ride chatter. John Warr was helping handing out the headlamp stickers for the event with Les holding fort at the swipe in machine. Members had clearly spent some time ensuring their trusty hogs were spotless and gleaming, well done all. Loads of familiar faces, friends made over the years and of course as always new members to.
A large contingent of road captains to help out, Steve at the back, Fred, Jonathan, Wiggins, Les, Oliver, Mick, Rob Warr and assistant director Colin along too. At the appointed hour, ok 09.45 the briefing began. Note to RCs, it looks like we need to speak more clearly in future as a number of drop offs today failed to stay put or were making wild circular hand signals as to confuse the pack. Note to riders, please listen, understand and then stay at drop off points until the last man comes along.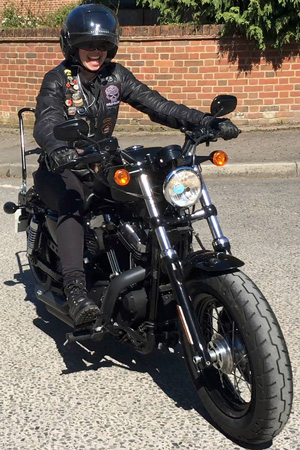 Anyway, briefing done and ready to roll through Putney, off down the A3 then exit at Painshill to Byfleet. Keep going, past McClaren then Fairoaks Airport, Red Road then arrive to tea at the Basingstoke Canal Centre, Mytchett in glorious sunshine. We got moving after 40 minutes through the Pirbright bends, well the slightly faster stretch anyway. Onto the Blackwater Valley Relief Road then through the Farnham by-pass before heading left towards Bird World on the A325. We stopped for fuel at a huge petrol station just before rejoining the A3 to get down to the Petersfield Services turnoff. I'm sure some missed this and sailed off for the quick way via A3/A27.
Anyway, the lucky ones went on the B2141 South Harting to Chilgrove road which must rank as one of the best stretches of road in the South-East before sneaking in the back door via Dell Quay to the road leading to Chichester Marina. The scene was set, great weather, the crowds, the bikes, our people, the C&F had arrived!
Thanks go to the RCs listed above, especially the above ones who made the recce, Steve, Jonathan and Paul Wiggins. Keep up the pictures on C&F Riders Facebook site, it's the shared experiences that make it.
Did I mention it was hot?
Next stop for sun lovers St Tropez or Staycation IV
Nick Deal - C&F Safety Officer
Photographs by C&F Photographer Steve Graham and C&F Member Emine San