Remembrance Ride 2015
Sunday 8th November
In 2014, we went to Ypres for Remembrance Sunday. While we were there we visited the largest Commonwealth War Graves Cemetery in the world at Tyne Cot, near the heart of the Passchendaele battlefield. This year we went a mere 32 miles to the largest war grave cemetery in the UK where some 5000 lay at rest at Brookwood, near Pirbright. The distance may have been trivial, but it had the advantage of giving many more C&F members a chance to take part - indeed 75 were present by 9.30am. Lots more than expected, and enough to throw the route timings out sufficiently to scupper the traditional two minute silence at 11am. We had also decided to avoid the usual A3 route and instead we went through Richmond and Twickenham, Home Park and Hampton Court. The autumn colours were truly spectacular. The road surface after a week of rain and tons of falling leaves was spectacularly greasy. Fortunately it stayed mostly dry during the ride.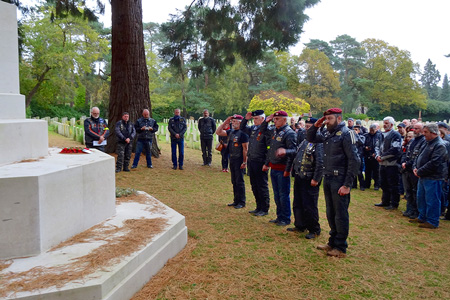 The coffee stop (the Café Rouge at Esher) was much less busy than expected so we all got to park up and partake of their welcome facilities prior to the second leg to Pirbright. This latter part of the route had been through several iterations; the final version settled on was satisfactory as it avoided both some troublesome roadworks and Woking town centre, hence we arrived in good time at the cemetery. All present heeded the dire warnings of the consequences of unrestrained use of their throttle hands within the purlieu of the cemetery itself so we arrived en masse accompanied by no more than a dignified rumble. Heads did turn but no offence was caused, indeed there were many friendly waves and photographs taken.
We parked up by the RAF memorial and walked up through the Air Force graves past their Stone of Remembrance to the nearby Cross of Sacrifice. This seemed entirely appropriate in the year of the 75th Anniversary of the Battle of Britain. There we had our own immaculately observed two minute silence and our C&F colour party (ably coordinated by Gavin) laid a traditional poppy wreath. I then read a modern poem, one from the Gulf War entitled 'The Fallen Kindly Wait' by BJ Lewis.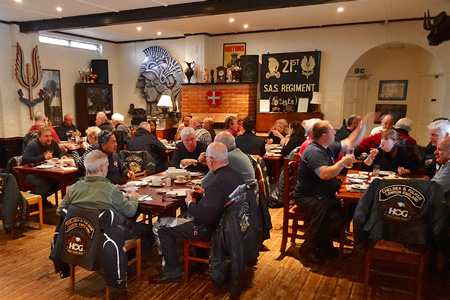 We were lucky enough to be invited to take luncheon at the Artists Rifles Club House within Bisley camp itself. This had to be on a first-come first-served basis as they could only cater for about 40 people. A splendid buffet lunch was laid on and enjoyed by all. There was however a choice of three local pubs serving food in Pirbright village as an alternative.
And that was it for another year. And what a year we have had.
Many thanks to my fellow Road Captains for their help with this ride: Les, Steve, DOF and Rob for junction marking and as roving marshals; Fred as dinner money monitor; Nick and Mick as last men.
And thanks to the participants, old and new faces alike. Not a drop-off was missed, there were no mechanicals, no drama and no issues. Well done to all.
The last monthly social night of the year at The Rose (opposite 611 Kings Road) is on Thursday 3rd December, from about 7pm. The last (unofficial) C&F outing of the year is Breakfast at Smiths of Smithfield on Sunday 13th December - meet there 9.30 to 10am.
Final thought. Does anyone play the bugle? The 'Last Post' at next year's ride would be a nice touch.
Michael Howers - C&F Road Captain
Photographs by Steve Graham.