Chelsea Picnic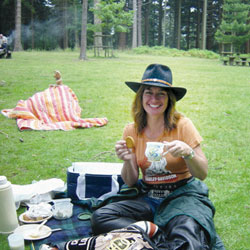 15th July 2007
Despite torrential thunderstorms in Kent, a dodgy forecast generally, and the school holidays having begun, there was a good turnout for the Picnic of the Year!
There were several new riders from all corners of the globe along with the usual crowd of people trying to avoid family commitments for the day!
The crazily painted Warr's camper van was on hand too to transport picnics to the New Forest - our final destination. We set off along...wait for it!...the A3 and headed towards Alton.
There we met up with 2 more riders, refuelled the V-Rods and Sportsters and set off for the fun of the A272. Wee! What fun it was! A nice fast and slightly bendy bit of road led us to the motorway missing Southampton and off into the New Forest.
A few drops of rain could not spoil the beautiful scenery and sweet little ponies. There were foals galore too! We tootled along at a gentle pace, so as not to disturb the wildlife, and came to our final destination at Bolderwood Arboretum. There Peter 'Scottie' Scott, our esteemed leader for the day, masterfully set about barbequing sausages as I tucked into my excellent picnic of smoked salmon, pork pies, cheeseboard, strawberries and clotted cream followed by a nice cup of earl grey tea.
After a snooze I was compelled to leave the peace and quiet to return home. My ride back was solitary, by my own choice, as today I had truly fallen in love with my bike and wanted to take in all the sensations of the ride home. Thank you to Scottie and all my fellow 'Picnickers' for a great day and to Harley for opening up a new chapter in my life.
Caroline Underwood