1066 and all that...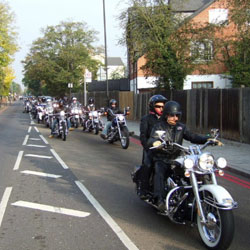 14th October 2007
An early start after our Rugby triumph on Saturday night and a dull and cloudy weather forecast did not deter a good turn out for the C&F run to Battle in East Sussex.
With the briefing completed and a welcome to some new C&F riders we took the road south out through Streatham and Croydon on the A23. Thanks must go to Andrew Papas and Peter 'Scottie' Scott who helped make the difficult junctions become easy and clear for the following pack of riders.
Once out of town it was up to the top of the downs to be greeted by light mist and damp roads. The sun attempted to burn it off but it persisted until we dropped down under the M25 at Oxted and on to some of the best B roads around leading us through Four Elms, Penshurst and Langton Green. This is where again we were greeted with the light mist, which turned into fog and the visibility started to reduce at varying rates principally due to the build up of precipitation on the outside of our sunnies and visors.
Skirting south of Tunbridge Wells on some small but interesting minor roads we were back on another great B road for the ride down to Ticehurst, which was made a lot more pleasant as the sun had now broken through and the sky turned blue.
All that was left was a quick ride down the A21 to Battle and a group photo before we all went our separate ways.
Thanks must go to Andrew and Scottie and to Michael Howers as the last man, who made sure that all riders who set off from Warr's, ended up at the same destination as I did 62 miles later.
David O'Flaherty - C&F Road Captain