Lobster Run
13th-16th September 2007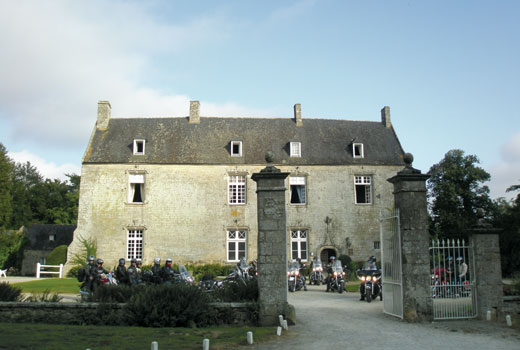 Well for Lyn and I this was our 2nd year on the Lobster Run with the leader of the pack, Paul Wiggins, leading his flock through the beautiful Brittany countryside.
This year the weather was kind and after a short ride from the ferry to the Manoir, along undulating winding country roads to offload the luggage and check in, a few hardy riders grabbed the opportunity for a thrash through the surrounding countryside. For others, a chance to grab forty winks or a few beers. In the evening we were ferried to a lovely restaurant to savour the local cuisine. Delicious.
The next day a carefully planned route of D-roads was an opportunity to push our machines and riding skills. Over 200 miles were covered with the obligatory stop for a superb lunch.
And so for the finale - the great Lobster feast, yet again Evan and his team did us proud. Great piles of crustaceans awaited, sloshed down with fine wine and great company, followed by some fine singing and dodgy dancing meant a truly memorable evening.
The next day a few jaded faces made it down to breakfast, with our glorious leader being the brightest shade of green. After breakfast we roared off though the French countryside for the ride to Caen. A smooth journey home and sad farewells brought an end to a memorable weekend, new friends and old bade farewell and headed off for the final part of their journey home.
To sum up, a wonderful gastronomic event, fantastic company and exhilarating rides on our fine shiny machines.
Rob Ardley